Lehman bankruptcy proceedings expenses crossed the billion US dollars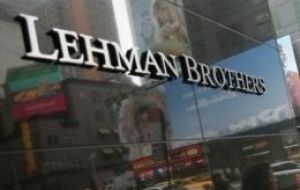 Expenses related to the bankruptcy proceedings of Lehman Brothers Holdings, whose collapse worsened the financial meltdown in 2008, has crossed the 1 billion US dollar mark.
Lehman Brothers is estimated to be the most expensive bankruptcy in the US corporate history, surpassing that of energy firm Enron Inc, which occurred under former President George Bush.
According to Lehman Brothers' court filing on Monday, the costs related to the bankruptcy touched USD 1.01 billion in September.
In September alone, Lehman Brothers shelled out a whopping USD 51.82 million in fees to advisers, lawyers and managers, among others.
The bankruptcy of Lehman Brothers in September 2008 turned out to be a watershed moment in the days of financial meltdown, which pushed the global economy into a tailspin.
Restructuring entity Alvarez & Marsal LLC, which is in charge of Lehman Brothers' interim management, received a payment of USD 13.9 million in September alone.
Since the bankruptcy in September 2008, Alvarez and Marsal LLC has been paid as much as USD 356.4 million.

Last month, lead counsel Weil Gotshal & Manges LLP received USD 16.2 million, pushing the total payment received by the entity to USD 237 million.
As per the filing, financial adviser Duff & Phelps LLC has so far been paid USD 42.4 million.
The failure of Lehman Brothers had triggered a severe liquidity crisis in the US, which was already grappling with sub-prime mortgage turmoil in 2008.
As part of restructuring efforts, Lehman Brothers has sold off many of its assets since entering into bankruptcy.