Piñera seals in Paris wide-ranging "strategic alliance" with France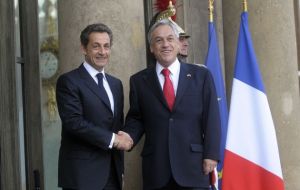 Chilean president Sebastian Piñera announced Wednesday in Paris a wide-ranging "strategic alliance" with France following a meeting with President Nicholas Sarkozy. Piñera arrived Tuesday from London and later in the week is scheduled to travel to Germany.
"Relations and links between France and Chile are going to witness better days ahead", said Piñera at the Palais Elysée. "We have reached agreements to work in different sectors and convergence in international affairs".
France promised to help Chile with the reconstruction from the deadly and devastating February earthquake by participating in the reestablishment of public services and an orderly urbanization of the struck areas.
The two countries are committed to work in the development of renewable energies, of which France leads in several options, and Piñera announced that Chile "must prepare for the world of nuclear energy, although no decision will be taken during this mandate".
As part of the agreement Chile will be sending forty students to specialize in the development of nuclear energy and "we hope that France continues to invest and develop in that sector in Chile".
Regarding education, student exchanges will be promoted and Chile expects to have 1.500 on scholarships in French universities by 2015.
France will also support the creation of "excellence schools" in Chile and promote French culture and language through the Alliance Francaise.
In satellite technology France will supply Chile with all the necessary from-space surveys and data until Chile has its own instruments orbiting the Earth
Political convergence was expressed in a joint declaration calling for a review of the United Nations Security Council making it "more representative of today's world and more efficient regarding the security problems and challenges of the XXI century".
Similarly both sides called for a consensus to conclude "with an ambitious, global and balanced agreement the trade negotiations of the WTO Doha Round".
Finally Piñera invited President Sarkozy to visit Chile and praised the French leader for the courage shown in implementing a reform to the pensions system which has the country virtually paralyzed with strikes, protests and street marches.
"These are times for real leaders, and Sarkozy is a real leader", said Piñera. "Europe needs great reforms to recover lost competitiveness".
In the morning the Chilean leader met with the Federation of French Corporations where he outlined his government plan for the next four years, "a re-edition of the Chilean miracle that extended from 1986 to 1997, a period of sustained, strong uninterrupted growth".
Thursday morning Piñera is scheduled to visit the main offices of the Organization for Economic Cooperation and Development of which Chile is a member.
From France Piñera flies to Germany for the third and last leg of his European tour that begun over the weekend in Britain.