Prime farmland in Argentina costs almost as much as in United States
Thursday, October 21st 2010 - 08:37 UTC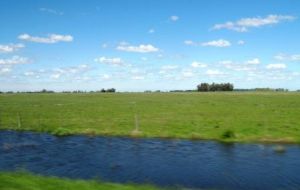 Prices for the best farmland in Argentina's breadbasket, the humid Pampa have risen on average 10% this year according to registered operations reports. This means the hectare of prime agriculture land in Argentina now costs almost the same as the average price of farmland in the state of Illinois, 14.000 US dollars.
"Prices are very strong, it's a bull market. Farmland for agriculture which is the most demanded average 14.000 US dollars the hectare in the corn hard core region, while land in the periphery of that core are in the range of 8.000 to 10.000 US dollars the hectare", said Luis Clucellas from Bullrich Campos, one of the main companies in the business.
"Currently a hectare of some of the best farmland ranges 13.000 to 14.000 US dollars but can also reach 15.000 US dollars, which is the average price for farmland in the state of Illinois at the heart of the corn belt", added Clucellas.
Overall the companies involved in selling Argentine farmland agree that demand remains higher than supply, but also point out to the fact that there has been a slight increase in land for sale.
Furthermore the market has yet to recover the enthusiasm and sales peak previous to the 2008 drought and the farmers' conflict with the Argentine government over export taxes on grains and oilseeds.
Nevertheless there is a growing interest from buyers, a greater number of requests to visit potential acquisitions and the best farmland is specifically targeted.
"This has had an influence on the price of farmland, together with the recovery of grain and oilseed prices plus prospects that land remains a good investment option, given the anticipated increasing demand for food world-wide in coming years. In this context the market is more active than at the beginning of the year", said Mariano Maurete from Alzaga Unzué and Co.
"We see a more active atmosphere, although I wouldn't say prices have risen, but rather that they are as high as they were back in 2008; if any increase it was not above 10%", he added.
Eduardo FitzGerald from Compañía Argentina de Tierras said the market is more active and if buyers find good quality farmland they are ready to pay, "although maybe not as much as the owner would like".
Good farmland prices have risen 10% to 15% compared to 2009, but other lesser quality camps, half agriculture, half livestock, "owners are more prepared to talk and negotiate". Demand is not desperate, however when it's good farmland, "there is an interest" said Fitz Gerald.
For Marcos Lanusse an advisor in camp transactions "overall the market remains strong and stable regarding prices, with a slight increase in very specific cases such as land not further than 100 kilometres from Buenos Aires City or marginal farmland with good development potential".
Lanusse said that when there have been price increases "they have not gone further than 10% to 15% compared to last year. Market seems to have grown in volume and number of deals, but the fact is there is not much prime farmland for sale, and there are investors on the lookout considering options".
But, who is buying land in Argentina? According to Lanusse most are locals, and when foreigners, in very specific cases.
On the other hand farm policies implemented by the Argentina government have meant that many investment funds which originally considered Argentina as an option, "have finally decided to move to Uruguay and Brazil and in second place to Bolivia and Paraguay".