Bolivian navy to have access to the Pacific for the first time in 130 years
Saturday, October 23rd 2010 - 04:17 UTC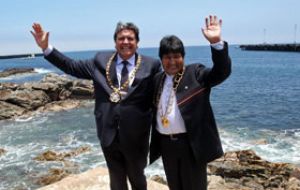 For the first time in more than 130 years, the Bolivian Navy will have access to the Pacific Ocean, after the heads of state of Bolivia and Peru signed an agreement to grant Bolivia access to the sea near the Peruvian port of Ilo.
After the Pacific War of 1879, Bolivia lost its access to the Pacific coast, as Chile conquered and appropriated land from Bolivia and Peru. The issue has remained a divisive one for well over a century and continues to impact relations among the three countries.
Early this week Peru's President Alan Garcia and Bolivia's President Evo Morales met to confirm an agreement that will give a boost to bilateral ties between the countries, while at the same time moving Bolivia closer to having ocean access.
The agreement signed by the two leaders allows Bolivia to utilize a three-mile long strip of land, south of Peru's port of Ilo and 160 kilometres north of Tacna, a Peruvian city close to the northern Chilean border. Bolivia will be able to use the land for trade, as well as for storing its naval ships. A Bolivian naval headquarters will also be built there.
"Bolivia will have a place for these young people who have sworn to defend the sovereignty of their country to study, live and teach their zeal and patriotism," said President Garcia during his speech about the agreement.
This latest agreement helps implement a deal brokered between the two countries in 1992 to transfer a strip of land for Bolivia to use as a tourist "free zone" for 99 years.
Garcia spoke about his support for Bolivia's quest for maritime access, and said Peru would not become an obstacle in this pursuit. Bolivia's landlocked situation is unfair, he added, and its desire for ocean access completely understandable.
"This is a country that needs the backing of its brothers to build a common front in defence of an inalienable right," said Garcia.
Bolivia and Chile have been engaged in serious discussions about Bolivia's need for ocean access for the past five years. While President Michelle Bachelet was willing to put the issue on a 13-point agenda that was to guide diplomatic discussions between the two nations, the newly elected government President Sebastian Piñera has appeared to be less receptive to entertaining the ocean access issue.
Morales did not directly criticize Chile in his speech but he did allude to the dispute.
"Here we only lack maritime sovereignty, but this is not the responsibility of the president or government of the Peruvian people," said Morales.
In recent appearances in Europe, Piñera said dialogue with the two countries has improved.
"We had a very frank and very direct dialogue with both Bolivia and Peru, the relations between Chile and Bolivia and Chile and Peru are looking ahead to solve problems," said Piñera at an appearance in London this week, "The past has divided us, the future unites us."
By Kayla Ruble – Santiago Times