Russia Gazprom joins France's Total in Bolivian gas joint venture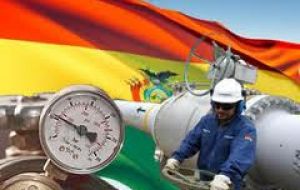 Russian energy company Gazprom has plans to take a 20% stake in natural gas projects in Bolivia, the gas monopoly said. Gazprom said it could take the stake under the terms of a September deal with French energy company Total for the Ipati and Aquio gas blocks in Bolivia.
The two energy companies would form a joint venture following approval from Bolivian authorities.
Proven natural gas reserves in Bolivia are around 53 trillion cubic feet, the Russian energy company said.
The two natural gas blocks are in the Subandino basin near the Andes Mountains. The Russian energy company said the total gas reserves in both blocks could approach 6.2 trillion cubic feet.
Bolivia, the Russian energy company said, is the third-largest gas producer in Latin America. Production from the two gas fields is planned for 2013.
Gazprom and Total are close to completing talks with Bolivia's state-owned YPF Bolivianos on the Azero block, Gazprom said.