Argentina announces production of enriched uranium for 2011
Tuesday, October 26th 2010 - 04:59 UTC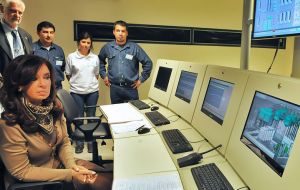 Argentina will produce the first batch of enriched uranium for civilian purposes next year as part of the re-launching of its atomic power industry, President Cristina Fernandez de Kirchner said Monday.
"We are returning to Argentina a right that we should never have renounced such as managing strategic nuclear resources that had been abandoned during the 1990s," Mrs Kirchner said in a televised speech at the Pilcaniyeu uranium enrichment plant in the Patagonian province of Rio Negro.
The enriched uranium produced at the 30,000 square metre Pilcaniyeu plant will be used as reactor fuel, the Planning Ministry said in a press release.
"Next year we will obtain the first examples of enriched uranium from this plant that we are re-commissioning today," she said on C5N news station.
Argentina re-launched its civilian nuclear-power program in 2006 amid worsening shortages of natural gas used to heat homes, power industry and fuel conventional electricity generation plants. Those shortages persist, with winter time rationing of gas to industry a seasonal fixture in the country's economic calendar.
Argentina currently operates two nuclear power plants--Atucha I, built with Siemens AG (SI, SIE.XE), and Embalse, built with AECL, in the province of Cordoba. The 360MW Atucha I came online in 1974, followed by the 650MW Embalse a decade later.
Argentina has already started a $1 billion life-extension upgrade of Embalse, which supplies power to the country's northeast, including the Cuyo and Centro regions and greater Buenos Aires.
Mrs Kirchner said a third nuclear plant, Atucha II, should commence start up next year. Atucha II, which will generate about 750 megawatts and provide about 3% of Argentina's total power output, was originally supposed to come online in 1987, but was stalled for 14 years amid political and economic obstacles.
Although Argentina's atomic-power program was largely put on ice in the 1990s during the government of former President Carlos Menem, nuclear research remained active. State-run advanced technology firm INVAP has designed and built small reactors for research and medical purposes at home as well as in Australia, Egypt, Peru and Algeria, according to its website.
Argentina's other nuclear assets include inactive uranium mines and the capacity to process fuel rods and produce the heavy water used in reactors.
"We are going to be able to manage the entire [nuclear] cycle from the production of uranium to the recycling of waste" said Mrs. Kirchner, adding that her government is committed to the peaceful use of atomic energy.