Argentine population in Antarctica 230, including nine families and 16 children
Tuesday, October 26th 2010 - 02:44 UTC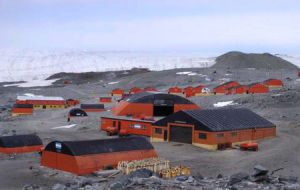 Argentina's population and housing census which this week took off in Antarctica revealed that 230 people live in the six Argentine bases including nine families and 16 children. The survey was done two days before the official launching in continental Argentina and was considered a "very successful experience".
Military personnel were in charge of compiling the census data from the 230 people in the Antarctica Argentine sector, distributed in the Orcadas, Marambio, Jubany, Esperanza, San Martín and Belgrano II bases.
At the most extreme south base, Belgrano, the census revealed 19 people between civilian and military personnel. While in Esperanza, the only base with families and a primary school, the number was 66, "which includes 9 families and 16 children".
The data collected was made public through a video conference at the Joint Chiefs of Staff office in Buenos Aires and from there to the Statistics Office, Indec which is coordinating the census operation nationwide in Argentina.
According to the military team the whole census operation in Antarctica involved an hour and a half, but had to be done under freezing conditions of minus 3 degrees Celsius.
Marambio which is the main Argentina base has 75 people between military personnel and scientists. The Argentine Air Force together with the Weather Forecasting Office have 41 people at the base including three scientists who are currently researching a volcano, 250 kilometres away.