Argentine bonds post big gains and stocks hit new record
Friday, October 29th 2010 - 04:06 UTC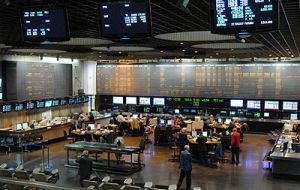 Argentine bonds posted big gains and stocks hit a new record high Thursday as markets anticipated a more business-friendly environment following the death of former president Nestor Kirchner.
While presidents from across the region and supporters filed past Kirchner's coffin to pay their last respects, Argentina's Merval Index of leading shares topped a new record, rising 1.17% to 2954.86 points.
The gains were led by power and gas providers amid speculation that the government of President Cristina Fernandez, Kirchner's wife, may consider easing rate controls following his death.
Power distributors Edenor (EDN, EDN.BA) shot up 5.82% to ARS 2 ($0.50), while Transener (TRAN.BA) jumped 4.31% to ARS1.21
Many political analysts had expected Nestor Kirchner to run in the October 2011 presidential election as a way for the husband-and-wife team to alternate in power and avoid constitutional restrictions on term limits.
Besides stocks, investors also snapped up Argentina's sovereign debt amid the positive sentiment. The federal government's benchmark peso-denominated 2033 discount bond surged 10.36% to ARS175.25, yielding 7.65%.
Meanwhile, the Global 2017 bond, issued in June as part of the government's debt swap with the holders of defaulted bonds, was 2.41% higher at ARS425, yielding 8.18%.
The Boden 2015, considered a good proxy for measuring the appeal of newly issued government bonds or the government's ability to sell them, closed 2.17% higher at ARS376.49, yielding 8.56%.