South American presidents give their full support to Cristina Kirchner
Friday, October 29th 2010 - 06:17 UTC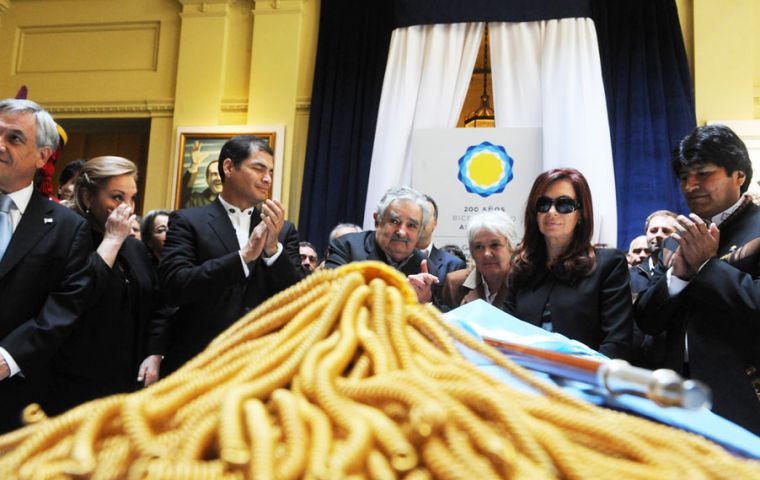 South American Presidents of Venezuela, Colombia, Brazil and Paraguay met Thursday at the wake of former Argentine president Néstor Kirchner, where they expressed their condolences to widow and current Head of State Cristina Fernández de Kirchner.
Venezuela's Hugo Chávez, Colombia's Juan Manuel Santos, Brazil's Lula da Silva, and Paraguay's Fernando Lugo paid their respects to CFK with a hug each and words of support.
Those who were also present at the wake earlier in the day were Uruguayan President José Mujica, Bolivian President Evo Morales, Ecuadorean President Rafael Correa, and Chilean President Sebastián Piñera.
Before heading to the Government House, all the regional presidents, with the exception of Lula da Silva, spoke to the press.
Colombia's President Juan Manuel Santos arrived in Buenos Aires in company of his Foreign Minister and said that "the Colombian people deeply regret the demise of Néstor Kirchner. We are here to express our condolences."
Talking about his personal relationship with Kirchner, Santos said, "We had a very particular relationship, as our views of the world and of politics were different. But once in Argentina, he invited me to dinner, and it was then that I got to know him better and we became great friends."
Before leaving the Metropolitan Airport, Santos remarked that he will always remember Kirchner "as the man who made possible the feat of getting Colombia and Venezuela back together after breaking diplomatic ties last year." Thus, Santos referred to when Venezuelan President Hugo Chávez closed Venezuela's embassy in Bogotá and sent troops to the border with Colombia after the Colombian army killed Colombian rebels on Ecuadorean territory.
Paraguayan Fernando Lugo assured after arriving that "Néstor Kirchner's leadership had passed Argentina's frontiers," and he added that "we all know that Argentina, Paraguay and America are in mourning," and sent his condolences to "the people, the government and President Cristina Fernández de Kirchner."
A very moved José Mujica, president of Uruguay, told reporters: "We are here to express all our solidarity with the Argentine people, its government, and most of all with Mrs. Cristina Fernández de Kirchner," and added, "If it's true that the River Plate separates our two nations, it is also true that it has always put us together."
Ecuador's President Rafael Correa expressed his deepest condolences for the "huge loss that former President Néstor Kirchner's death represents," and assured that Argentina, as well the entire region, lost "a true patriot, a huge Latin American, and a beloved friend".
Thus, the Ecuadorean Head of State called everyone to "strengthen Kirchner's efforts and continue fighting for all that the ex president did for the Argentines, as well for the region from his secretary-general post at the Union of South American Nations (UNASUR).
Furthermore, Correa expressed solidarity to the Argentine people and to "his long-life and militant fighting partner President Cristina Fernández de Kirchner", and ended praying, "All my love to you Argentina, to you Cristina, and to you Néstor. Until victory always!"
The president of Bolivia Evo Morales, evidently moved, said "I went through difficult moments in Bolivia and Néstor Kirchner was always with me and I hope he is still with me." He added the former president "was an advocate of Latin American dignity and sovereignty".
"We came here to join the sorrow of the Argentine people, urged by that Argentine passion that Néstor Kirchner had" Venezuelan president Hugo Chávez stressed after he arrived at Buenos Aires Metropolitan Airport while speaking to the press before heading to the Government House, where he attended the former president's wake.
Chávez recalled that "only 28 days ago we were in Buenos Aires summoned by Kirchner and Cristina and Unasur to raise our voices against the extremist force which sought to oust Rafael Correa's government," and he said that "Néstor Kirchner came to power at the right moment and in the right place". "I remember the year 2003. I was until that moment a sole Latin American president. Then, Lula Da Silva took office on January 1, and a few months later, Néstor Kirchner took office in Argentina," he added.
Chávez concluded: "Today we are stunned by this misfortune, but it is part of this road and this passion."
Brazilian President Lula da Silva was the last of the Latin American presidents to arrive in Buenos Aires. After landing at the Metropolitan Airport, he went straight to the Government House, where he hugged President Cristina Fernández de Kirchner and expressed his condolences.
Before leaving Brazil, President Lula da Silva said "Kirchner was a comrade who was able to pull Argentina out of the pit it was in" when he took office in 2003, after the 2001 crisis.
Lula da Silva had to return to Brazil since he was to host the closing rally of his presidential candidate's campaign, Dilma Rousseff, which was planned to be held in his native Pernambuco, northern Brazil.