Timerman anticipates Cristina Fernandez will run for re-election in 2011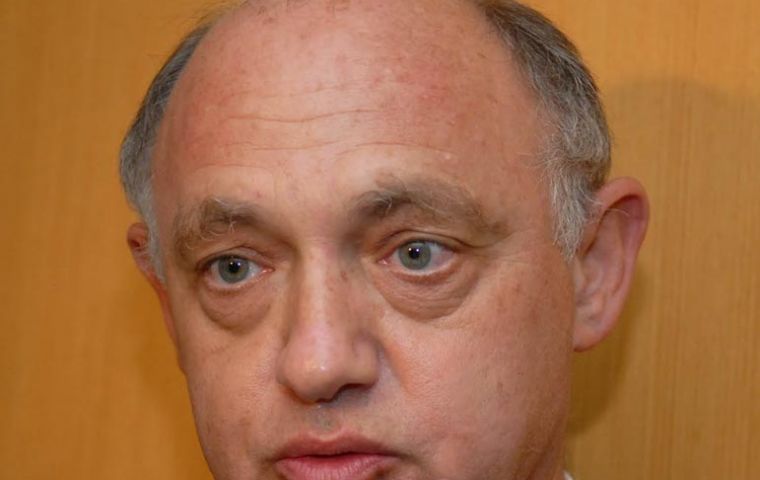 Argentine Foreign Affairs minister Hector Timerman anticipated that Cristina Fernandez de Kirchner will be again president of all Argentines, although admitting that the decision to be or not to be a candidate "rests on her".
Timerman's statements were released by the Argentine official news agency Telam during the wake ceremony for Nestor Kirchner at Government House in Buenos Aires that has convened hundreds of thousands of Argentines and most South American leaders.
"We have said all along that (the next Argentine president) could be a he or a she 'penguin', now there's no question that it's going to be her", said Timerman whose original interview was with English CNN.
He added that "Cristina is going to be the candidate of all Argentines and she's going to be the winner, I have no doubts", but warned when asked if it had been decided that "no, it has not been decided, it's something she has to decide, but she has all the support from the Argentine people".
Presidential elections in Argentina are scheduled for October 2011 and on December 10 Cristina Fernandez de Kirchner four year mandate comes to an end.
In earlier statements Timerman had said that in spite of the "terrible blow" that the loss of her husband and political companion has meant for Cristina Kirchner, "the president is ready to continue governing" and those who are betting on a change "are mistaken".
"President Cristina Fernandez is where she is because she earned that place on her own right", although acknowledging that "he has never seen Cristina without Nestor, or Nestor without Cristina"
Timerman said "Cristina Fernandez is a political leader on her own weight, not a widow that inherits; she's the leader of a government because that is how she was elected".
Further on the Argentine chancellor said "it's going to be difficult" to replace Kirchner at Unasur (Union of South American Nations) because "his role was very important, he was more than a simple secretary general, he was a statesman that could counsel".
Timerman also announced that between November 25 and 26, Unasur presidents will meet to define deceased Secretary-General Néstor Kirchner's successor. "Unasur is something that is here to stay because its existence is necessary" he assured.
Unasur declared three days of mourning in the region to pay homage to former president and the organization's secretary general Nestor Kirchner.
"Ministers from the regional union have decided to declare three days of mourning in South America," stated the Unasur communiqué.
The statement added that Kirchner was "convinced" in the union of the Latin American countries. "He fought for deep changes in his country and in Latin America during his life, he worked from different sectors for social justice, equity, democracy and integration," it continues.
According to the Unasur, Kirchner's death "deprives Latin America of a key leader in the construction of a region without exclusion."
It highlighted that during his short time as the secretary general of the Unasur, Kirchner had participated in many important decisions for the region, as the intervention in Colombia and Venezuela conflict.
Besides, he was involved in the defence of democracy after a failed coup in Ecuador and the implementation of the democracy clause for South America.
Kirchner was designated as secretary general of Unasur on May 4 2010, during an extraordinary session held at Los Cardales, Buenos Aires province.