Argentine president retakes activities Monday and Tuesday will attend rally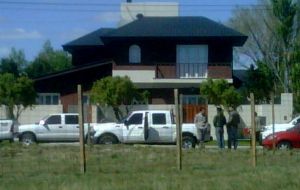 Argentine President Cristina Fernández de Kirchner will resume her presidential activities on Monday and will travel to Córdoba province to head a rally on Tuesday. Córdoba Governor Juan Schiaretti confirmed the presence of the Head of State at the Renault local plant for the presentation of a new car.
Presidential secretary general Oscar Parrilli told Schiaretti during a phone call that Fernández de Kirchner will attend the rally on Tuesday afternoon stated a communiqué released by Córdoba's government.
The Head of State will return to Buenos Aires province on Sunday night and will resume her activity on Monday. Government House's agenda states that there will be a rally held at the Argentine Women Room with governors from the Cuyo region. If the President confirms her presence, it will be her first public appearance since ex President Néstor Kirchner's death.
The Argentine president is recovering from the funeral which begun last Thursday morning in Buenos Aires and concluded mid-night Friday in the cemetery of Rio Gallegos, Nestor Kirchner's home town and capital of Patagonia's Santa Cruz province.
Interior Minister Florencio Randazzo had anticipated last Friday that the Head of State would "resume all activities very soon", on conversations with the media.
Randazzo had also remarked that "all governors and district heads will strongly support the president on her government activities as they have all shown a great sense of responsibility."
Labour Minister Carlos Tomada assured that "it is time to add efforts and strengthen our government," during a rally organized by Buenos Aires City Justicialista Party to homage ex President Néstor Kirchner.
Tomada told the press that "we have to make clear the interests we defend and which are the needs of our people".
He also said that "Argentines' message was clear" during Néstor Kirchner's wake. When he was asked about the President's administration, Tomada assured that she will "keep on working as she always did."
During the same rally, Foreign Affairs minister Timerman agreed with Tomada and said Fernández de Kirchner will "strengthen the model she has initiated" with her husband.
He also assured that the Head of State "has to be a candidate for 2011 presidential election".
Both ministers were part of the inauguration of the Cultural and Political Centre in a neighbourhood of Buenos Aires City. Senator Daniel Filmus, Defence Minister Nilda Garré and legislator Francisco Nenna were also attended to the rally.