Falklands' exploration company Desire unable to reach drilling target depth
Monday, November 1st 2010 - 16:39 UTC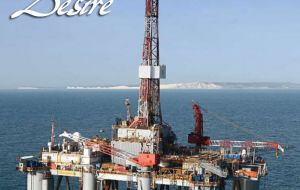 Falkland Islands oil explorer Desire Petroleum (DES.L) said a closely-watched sidetrack well on its Rachel prospect in the Falkland Islands was unable to reach target depth and it would clean the hole out before trying again.
The company said last month that the original Rachel well (14/15-1Z) in the North Falkland basin did not find oil but that it was going to drill a sidetrack well as it had identified a more prospective zone nearby.
"Due to well-bore stability issues through the deviated section of the well-bore (forty degrees' hole inclination) it was not possible to reach the target depths in the first wire-line logging run. The hole is now being cleaned out prior to making a further attempt", said the official release from the exploration company.
The Ocean Guardian drilling rig is targeting a total depth of 3,418 meters on the sidetrack well, which is being drilled to evaluate the prospectivity of a 103-meter sandstone identified down-dip from the original Rachel well.
Rockhopper (RKH.L), another Falkland Islands-focused explorer, owns a 7.5% stake in the licence where the Rachel prospect is located, with Desire owning the balance.
Shares in Desire, which last week rose as much as 78% in one day on speculation the sidetrack had found oil, opened down 12.1% before recovering to trade down 1.3 percent at 95.75 pence.