Two presidents will head "Chilean Antarctica Day" celebrations
Monday, November 1st 2010 - 05:36 UTC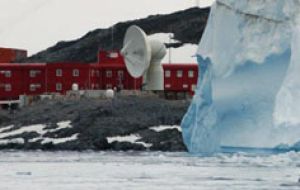 Punta Arenas launched Sunday the "Chilean Antarctica Day" celebrations that are programmed to last a full week including the visit of Chilean president Sebastián Piñera and his Ecuadorean peer Rafael Correa, specially invited for the occasion.
From Punta Arenas on November 6 the two leaders will fly to King George Island in the Antarctic Peninsula to visit their countries respective scientific bases, President Eduardo Frei Montalva and Pedro Vicente Maldonado.
"It's a most important event which will ratify Punta Arenas as the natural access to Antarctica plus consolidating a country-strategy over that territory. That is why and barring no inconvenient, we will be hosting both presidents", said Punta Arenas mayor Liliana Kusanovic.
From Quito President Rafael Correa said he was particularly excited since he will be the first Ecuadorean president to visit Antarctica and the country's scientific base, Pedro Vicente Maldonado.
"We are leaving November 5 for Punta Arenas and on November 6 to the Chilean base President Frei and from there by helicopter or snow-cat, depending on the weather to Ecuador's base", he said.
Another milestone of the week's celebrations is a special session of Chile's Antarctica Policy Council when the 2011/2015 Strategic Plan will be considered with the attendance of Foreign Affairs minister Alfredo Moreno; Defence minister, Jaime Ravinet and Finance minister, Felipe Larraín.
Other activities include a painting contest for school children under 9, "Create your Antarctic dream" organized by the local Regional Culture Council. During the week at one of Punta Arenas high schools there will be a Schools' Antarctica Fair, when 26 different secondary school delegations from all over Chile will compete to win a trip for their class to visit Antarctica.
"The purpose of all these activities is to show the relevant aspects of the territory regarding tourism, science research, logistics, culture and government policies, besides creating awareness and a regional identity with Antarctica", said mayor Kusanovic.
Chile has all of its Antarctic activities concentrated in Punta Arenas including the headquarters of the country's Antarctic institute which moved to the extreme south of the country only a few years ago.