Gay-friendly Buenos Aires experiences massive inflow of homosexual tourism
Wednesday, November 3rd 2010 - 23:46 UTC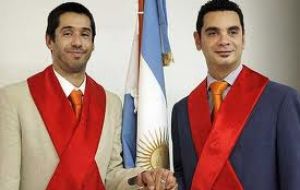 Argentina expects an important inflow of gay tourists this coming season, more specifically the capital Buenos Aires following pioneering legislation making marriage among same sex people legal.
Pablo De Luca, president of the Argentine Gay-Lesbian Chamber of Commerce (Coglar) forecasted that homosexual tourism this year is set to represent 21% of all visitors to Buenos Aires, well ahead of the previous 17% record of 2008.
"It's simply astonishing how the number of tourists has grown with the new marriage bill, as well as the surging number of businesses in tours, gastronomy, medicine that have surfaced since", said De Luca during the International Tourism Fair which was held in Buenos Aires.
As an example of this booming inflow De Luca revealed that "every day homosexuals and lesbians from Uruguay" arrive in Buenos Aires to get married, a phenomenon repeated in the city of Mendoza, west Argentina, with Chileans and in Córdoba (centre province) with Peruvians.
A survey from the Argentine Gay-Lesbian chamber of commerce indicates that Argentina has become the main attraction for Colombian homosexuals and the cities of Buenos Aires and Bariloche (winter resort in Patagonia) are among the most looked after cities for the Latin American travellers.
The great competitors of Buenos Aries are the Brazilian city of Rio do Janeiro and Mexico's Cancún, which has prompted Coglar to request from the Argentine government to organize music, sports, art and other events specifically to cater homosexuals.
Coglar also called on the government to help promote other cities such as Iguazú, next to the world famous water-falls and Bariloche, since 70% of all gay tourism is absorbed by Buenos Aires.
The new same sex legislation approved last July by the Argentine congress has also triggered a boom of "gay-friendly" companies and services, specializing in catering this visitors' segment.
"By the end of the year we'll have 130 companies associated to Coglar, which is three times more than the 37 with which we took off in early 2010", revealed De Luca.
According to the Coglar survey the main tourist attractions in Argentina for the homosexual segment, aged between 35 and 55, are related to cuisine, cultural activities and night leisure and amenities.
De Luca called on Argentine enterprises to adapt their products and services to the new scenario generated by the same sex marriage bill.
The survey showed that 60% of homosexual visitors prefer to contract 'gay-friendly' companies and half of them are contemplating some sort of aesthetics surgery or lift-up during their stay in Argentina.
Further on De Luca pointed out that homosexuals overall belong to a higher income bracket than the average heterosexual visitor and have a higher "brand fidelity" as well as a greater interest in travelling, using internet and the latest fashions.
The Coglar survey also pointed out that 64% of Argentine homosexuals and lesbians have expressed marriage intention, while 25% oppose such a move.
The International Tourism Fair in Buenos Aires for the first time this year had a "pink corner", an area with 26 outlets from Argentina and international companies promoting homosexual tourism in Argentina.
De Luca said that gay oriented business in Argentina had a turnover of 15 billion US dollars in 2009. This compares with the 715 billion spent by the gay community in the United States in 2008.