Republican landslide in the House; Democrats barely manage to retain Senate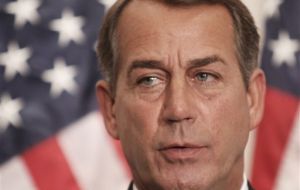 Voter dissatisfaction with the United States economy has given Republicans an anticipated but equally stunning advance in Congress winning a majority control of the U.S. House of Representatives, while Democrats retained their majority in the Senate.
With results of Tuesday's mi-term election still coming in, the extent of the Republican takeover of the 435-member House was still to be determined. But CNN projected that Republicans would win at least 52 more House seats than they currently hold to wipe out the Democratic majority of the past four years.
Republican candidates also were running strong in governors' races, while Democrats were guaranteed to hold at least 50 of the 100 Senate seats with a handful of close races still outstanding, according to the projections based on CNN's analysis of exit poll data.
An energized conservative electorate, fueled by the anti-establishment Tea Party movement that emerged in 2009, helped Republicans to what could be their biggest gain in congressional elections in decades.
"It's clear tonight who the real winners are, and it's the American people," said House Minority Leader John Boehner of Ohio, who is expected to become House Speaker in January when the new GOP majority takes over.
"With their voices, the American people are demanding a new way forward in Washington," Boehner said, calling for conservative policies favored by the Tea Party such as cutting spending and reducing the size of government.
Tea Party-backed Republicans Rand Paul in Kentucky and Marco Rubio in Florida won their Senate races, while another GOP candidate, John Boozman, will defeat incumbent Democrat Blanche Lincoln in Arkansas, according to the projections.
In Indiana, conservative Republican Dan Coats was the projected winner to take over the Senate seat held by retiring Democrat Evan Bayh, while the GOP's Ron Johnson toppled Democratic incumbent Sen. Russ Feingold in Wisconsin. The projected victories by Coats, Boozman, Johnson and John Hoeven in North Dakota gave Republicans four pick-ups in the Senate.
However, Democrat Chris Coons was the projected winner over Republican Christine O'Donnell, another Tea Party-supported candidate, in Delaware's Senate race for the seat formerly held for decades by Vice President Joe Biden. In Connecticut, Democratic Attorney General Richard Blumenthal will defeat Republican Linda McMahon, the former professional wrestling executive, for the Senate seat held by retiring Democrat Chris Dodd.
On the House side, Republicans picked up seats in a broad swath across the country, including victories over one-term Democrats who came to power in traditionally GOP districts in 2008, leading Republican National Chairman Michael Steele to tell CNN that he expected his party to gain 55 House seats to take majority control of the chamber.