Australia and India increase interest rates amid fears of rising inflation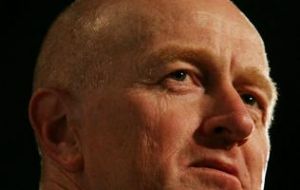 Australia and India have both raised interest rates by a quarter percentage point amid fears of rising inflation. The central bank of Australia put up rates from 4.5% to 4.75%, surprising markets with the first rise since May.
India's rise, the sixth this year, was less unexpected. The Reserve Bank raised the Repo rate, the rate at which it lends to banks, to 6.25% from 6%. It raised the reverse Repo rate - the rate at which it borrows from banks - to 5.25% from 5%.
The Reserve Bank of India's governor said in a statement that the likelihood of further increases in the near future was "relatively low".
Australia was the only major developed economy to avoid recession during the global downturn. It announced a series of rate increases between October 2009 and May 2010, designed to prevent the economy from overheating.
Australia has benefited from a boom in the mining and energy industries, supported by strong sales to China and India, but inflation remains a risk.
"The moderation in inflation that has been under way for the past two years is probably now close to ending. Recent information suggests underlying inflation running at about 2½ per cent, with the CPI inflation rate a little higher due mainly to increases in tobacco taxes. Both results were helped somewhat in the latest quarter by unusual softness in food prices. Inflation is likely to rise over the next few years. This outlook, which is largely unchanged from the Bank's earlier forecasts, assumes some tightening in monetary policy", said Glenn Stevens, governor of Australia's Reserve bank.
For its part, India has been facing rising food prices, as the soaring cost of staple goods such as grains, pulses, fruit and vegetables has caused economic as well as political tension. Fuel costs have also been an issue for India, which imports about three-quarters of its oil.