Plans filed for US$100 million wind farm in Southern Chile
Friday, November 5th 2010 - 03:11 UTC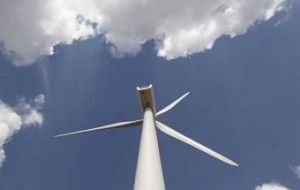 The Bosques de Chile firm this week filed paper work with environmental authorities for authorization to proceed with a US$100 million wind farm investment off the coast of Chiloé Island near Dalcahue.
The farm consists of 22 generators – 40 to 80 meters tall – that will be capable of producing 36 megawatts of renewable energy for the nation's central energy grid, the Central Interconnected System (SIC).
The firm said it would cover part of construction costs of the "San Pedro" wind farm with revenues from carbon bonds.
This year has seen the announcement of several major wind farms projects for the country.
In July, the world's largest wind turbine company, Denmark's Vestas, announced it will be investing in the Talinay Oriente wind farm project in northern Chile, a project it says will become Latin America's largest wind farm.
Apparently seeing tremendous opportunity in Chile Vestas also hired former Chilean Energy Minister Marcelo Tokman to head the project.
By Steve Anderson – Santiago Times