Brazilian exporters ask Rousseff for a US dollar between 2 and 2.2 Real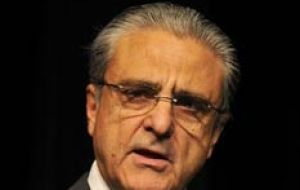 The Brazilian Confederation of Industry, CNI, is strongly lobbying president-elect Dilma Rousseff who takes office next January first to adopt additional measures to help contain the strong appreciation of the Real vis-à-vis the US dollar.

CNI president Robson Braga last week held a meeting with foreign correspondents and expressed Brazil's export sector concern with the strong value of the local currency, which between September and October soared to its highest in the last two years having reached 1.7 Real to the US dollar.

"It's hard to establish an ideal price for the export-dollar, but different manufacturing sectors suggest anywhere between 2 and 2.2 Real to the US dollar", said Braga who underlined that measures so far imposed by the Lula da Silva administration still have to convince exporters.

"There is much the Brazilian government can do in the short term to help the Brazilian real" said Braga who belongs to the electric manufacturing sector and took office as CNI chief last October. "Perhaps higher taxes on short-term inflows, perhaps a quarantine on short-term inflows by which they would have to remain in country for a period."

The Brazilian Real has appreciated by more than 30% against the US dollar since March 2009. Braga said, "This is making Brazilian exports uncompetitive. It is also leading to the problem of de-industrialization, by which Brazilian manufacturers are undermined by cheap imports."

In recent weeks, the Brazilian government has sought to stem the appreciation of the Real by slapping higher taxes on certain types of short-term inflows. "We would like to see more measures like this," Braga said. "What we need to do is find ways to attract productive foreign investment, not speculative investment."

Apparently one of the additional measures to be imposed by the administration of Lula da Silva will be the implementation of the Sao Paulo stock exchange, Bovespa, request to limit derivate operations in US dollars. So far Brazil has slapped a higher tax on capital inflows to fixed assets, but no income tax is paid on returns. Similarly it has allowed the Brazilian Treasury to buy dollars in the local market to repay foreign debt.

Braga recalled president elect Rousseff's commitment to the main industry organizations that she would reduce the tax burden on exports and national investments. During the recent presidential campaign the three main candidates, Rousseff, Jose Serra and Marina Silva were given a document with the manufacturing sector demands.

"Brazil is loosing competitiveness and we run a serious risk of de-industrialization in several areas" said Braga on the consequences of a loss in export dynamism, particularly from manufacturing which is a potent tool to "diversify" Brazil's exports currently concentrated on mineral resources and agriculture commodities.

However Braga said he trusted the new government would effectively address the issue of the exchange rate and would conclude the political, agriculture and tax reforms started by President Lula da Silva and for which president-elect Rousseff now has a more favourable scenario given its ample majority in congress.

"Ms Rousseff has a wonderful opportunity to impose changes and reforms: she has the strong political and ballots backing and a majority in Congress. Besides she knows the Brazilian economy very well. Her first speech as president elect was most encouraging", said Braga.

Following her victory at the end of October Ms Rousseff confirmed she would continue with the economic policies from the Lula da Silva administration and discarded any radical measures to address the issue of the exchange rate.

"We are going to keep a very close eye on the exchange rate, because manipulation will not solve the problem. We are going to have a floating exchange rate and we have sufficient foreign exchange reserves to protect us from international speculation. I don't think it's possible that we have a repeat of the 30' experience with a competitive devaluation of currencies. The principle is and will continue to be a floating exchange rate", said Rousseff in an interview with Brazil's main television stations Globo and Record.

Rousseff also talked about government spending, the budget and indirectly replied to the fiscal adjustment demanded from all presidential candidates by CNI and other business organizations during the campaign.

"The main characteristics of a government now-a-days is not to spend what you can't; but is will retain social layouts and investments. W-e are not going to play with inflation, we are a government that will have inflationary targets, just as the administration of President Lula da Silva, but I will keep control over government spending", announced the president-elect and former cabinet chief a week ago.
Braga coincided with Rousseff saying that there are "excessive expenditures and governments tend to increase current outlays without investing in the people".

The CNI chief finally said that manufacturers are vehemently opposed to another idea that has gained ground recently: a proposal by some state governors to revive a financial transactions tax.

Braga said the CNI will lead efforts by business interests nationwide to block the CPMF, a 0.38% tax on virtually all financial transactions that lapsed in 2007. The tax brought in revenue equivalent to 24 billion US dollars per year. The elimination of the tax was one of the major setbacks of President Lula da Silva in Congress.

"The CNI is totally against the return of the CPMF or any similar tax. We will lead business efforts to oppose it," said Braga. He added, "The tax has a cumulative effect. It is levied at every stage of the productive process, leading to higher costs and making Brazilian products less competitive".

In theory, revenue from the CPMF would be used exclusively to improve health care. However, Braga said, "There are better ways to fund health care, starting with more efficient administration."

President-elect Dilma Rousseff said she would be prepared to discuss a new tax to finance health care, although she said she wouldn't seek to revive the CPMF tax.