Argentine military Junta leader and "dirty war" brains dies in hospital
Tuesday, November 9th 2010 - 17:21 UTC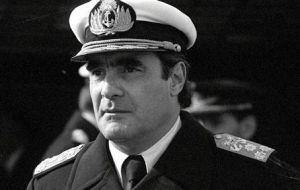 Argentine coup leader Emilio Eduardo Massera, 85, died Monday after suffering for years from a heart condition and dementia that left him too ill to be tried for crimes against humanity.
Massera, a former admiral and member of the military junta that toppled President Isabel Peron in 1976, died of a cerebral haemorrhage. Since suffering a stroke in 2002, Massera was considered too ill and senile to be prosecuted for stealing the babies of jailed dissidents and other crimes against humanity committed during the 1976-1983 dictatorship.
Massera, junta President Jorge Videla and other coup leaders took power at a time when Argentina was torn by leftist guerrilla violence and counterattacks by military forces and death squads.
He is considered the brains behind the junta's "dirty war" campaign against political opponents, which resulted in nearly 13,000 deaths and disappearances, according to official records. Human rights groups put the toll closer to 30,000.
Massera also known as "Commander Zero" and "El Negro" was the cold calculator of the extermination campaign during the dictatorship's early years. His atrocities were brought to light through the testimony of hundreds of survivors during the historic trial of junta leaders in 1985, when he was sentenced to life for murder, illegal imprisonment, tortures and robbery.
Under Massera's authority, the Navy Mechanics School in Buenos Aires became Argentina's main clandestine torture centre. About 5,000 people were held in its cells; less than half survived.
He took pride in "breaking" captives, and releasing a few of them with orders to tell the world they had been well treated. He also encouraged his officers to take women prisoners out as escorts to service dinners and parties, in a scene of control and betrayal reminiscent of Hitlerian rule.
For the rapacious admiral the looting of the homes of guerrilla captives, complete with removal vans, was encouraged, and considered as war booty, and the product of these nightly forays was stored at the mechanical school for resale and distribution of the cash.
Massera served less than five years in prison before then-President Carlos Menem granted him and other coup leaders' amnesty in what he called a gesture of reconciliation.
Later, when dictatorship figures were charged with stealing babies, Massera's ill health kept him out of prison, until on more than one occasion he was photographed walking briskly down the street one day. Outraged, a judge sent him back behind bars for a time.
When the Supreme Court declared the amnesties unconstitutional in 2005, it confirmed that Massera suffered from dementia and suspended all cases against him, as well as extradition requests from Germany, Italy, Spain and France to face murder trials in the deaths of their citizens in Argentina.
According to survivors, the methods of his torturers included electric shocks; simulated executions; the "dry submarine," in which the kidnapped would be nearly asphyxiated with a bag; and the "wet submarine," in which prisoners would be submerged headfirst in water. Once they had no more information to give, many prisoners were shot to death or drugged and dropped from planes into the ocean in what became known as "death flights."
Massera provided close oversight even mounting a media operation inside the torture centre he called the "Fish Tank," where he obligated prisoners to write articles for publication to support his dream of becoming president one day.
"Over his tomb will fall the spit of an outraged public, like intermittent rain," said Osvaldo Bayer, who wrote a biography of Massera.