"Carnival Splendor" with 4.500 people towed to Mexico after fire left her adrift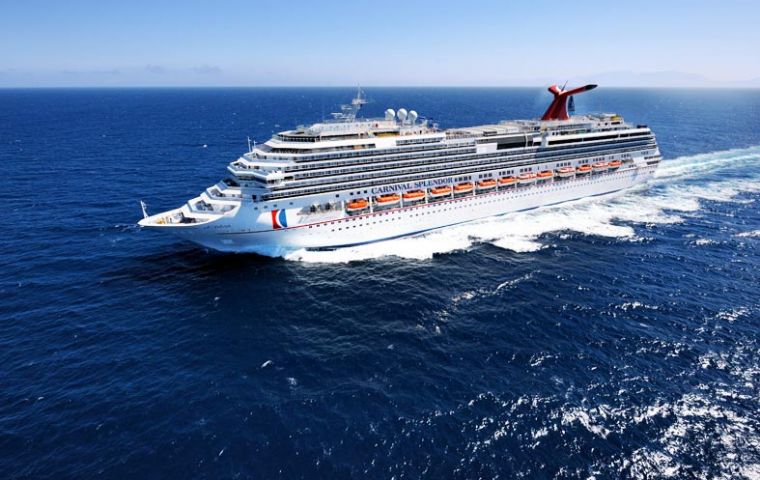 The crew of a Mexico-bound cruise ship "Carnival Splendor" battled an engine room fire for three hours which left the vessel adrift, officials said. On Tuesday the vessel was waiting to be towed to the Mexican port of Ensenada.
According to a statement from Carnival Cruise Lines, the blaze aboard the Carnival Splendor broke out Monday around 6 a.m. as the ship was about 55 miles off of the northern Baja California coast.
The ship is carrying 3,299 guests and 1,167 crew members. The fire was extinguished by 9:10 a.m., and no one was hurt, said the company.
"Currently several key hotel systems, including air conditioning, hot food service, flushing toilets and telephones are not available" according to the statement on the cruise line's website. "The ship's crew is actively working to restore partial services."
Officials decided to terminate the cruise when power couldn't be fully restored.
The ship's crew first asked guests to move to the ship's upper deck, but later provided them with bottled water and food and allowed them to return to their cabins.
Officials say the 113.000 gross registered tons and 952-foot-long ship, which left the Port of Long Beach on Sunday, was to be towed to Ensenada in Baja California.
"Guests on the current voyage will be receiving a full refund along with reimbursement for transportation costs," the firm's statement added. "Additionally, they will receive a complimentary future cruise equal to the amount paid for this voyage." The statement also included an apology from the company's CEO.
"We know that this has been an extremely trying situation for our guests and we sincerely thank them for their patience. Conditions on board the ship are very challenging and we sincerely apologize for the discomfort and inconvenience our guests are currently enduring. The safety of our passengers and crew is our top priority and we are working to get our guests home as quickly as possible", said Gerry Cahill, president and CEO of Carnival Cruise Lines.
The US Coast Guard said in a statement that it responded to the Panamanian-flagged cruise ship along with the Mexican Navy. The Coast Guard said it has dispatched multiple vessels, including three cutters, an HC-130 Hercules aircraft and an additional 965-foot container ship from the Automated Mutual-Assistance Vessel Rescue System.
"Carnival Splendor" was on the first leg of a seven-day Mexican Riviera cruise that departed on November 7 from Long Beach, California. The ship's normal itinerary includes stops in Puerto Vallarta, Mazatlan and Cabo San Lucas, Mexico.