Paul McCartney in Buenos Aires ready for the first show on Wednesday
Tuesday, November 9th 2010 - 04:00 UTC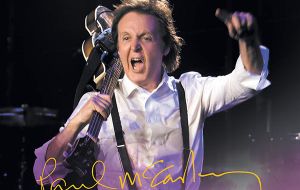 Former Beatle Paul McCartney is resting in a farm in the outskirts of Buenos Aires preparing for the scheduled shows of Wednesday and Thursday at the River Plate stadium.
Paul arrived at Buenos Aires international airport Ezeiza early Monday in a private Gulf Stream jet with the band and assistants and was immediately driven to the farm. However the rest of the group had to go through Customs and the normal procedure.
On Wednesday the stadium opens at 17:00 hours but the "Up and Coming" Argentine leg tour is scheduled to take off at 21:00 hours. Paul McCartney last played in Buenos Aires 17 years ago.
He arrived in Buenos Aires from the Beira Rio Stadium in Porto Alegre, southern Brazil where he played for 66,000 frenzied fans, some of which had started queuing the week before.
During the three hour show Paul went through 36 songs from different stages of his career including some unforgettable Beatles' hits such as "Hey Jude", "Yesterday", "All my loving" and "Eleanor Rigby".
He also honored his former band deceased members: John Lennon's "Give peace a chance" and George Harrison's "Something".
The band is made up of Rusty Anderson, Brian Ray, Paul "Wix" Wickens and Abe Laboriel Jr.
Tickets in Argentina in spite of being the most expensive of the current tour were sold a few hours after the announcement Paul would be playing in November.
Speaking about the reaction to his trip so far, McCartney said: "I love South American audiences. I always think I have Latin blood because I connect so strongly with their love of music and their love of rhythm and their love of melody, so I always feel like I have a very big bond with South American people and Latin people in general. So yeah, I'm bonding, man!"
Following his two day presentation in Buenos Aires McCartney is scheduled to return to Brazil where he will play in the city of Sao Paulo, November 21 and 22.