Tourism industry expected to expand 2% in 2010 based on strong rebound in Asia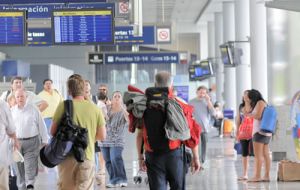 The World Travel & Tourism Council's (WTTC) revised upwards its previous forecasts for the industry reflecting the economic recovery and the faster-than-expected rebound in international travel, particularly in Asian markets.
Global Travel & Tourism Economy real GDP growth is now expected to rise by 2% this year (up from 0.5% forecast early in the year), creating an extra 946,000 jobs worldwide. The Travel & Tourism market share of total GDP and investment will increase by one percentage point this year, compared to WTTC initial forecast in January revealed the organization during its London meeting.
However, expenditure on Travel & Tourism is still well down on its 2008 peak and the pace of recovery in 2011 is likely to be slower than previously forecast. Western consumers continue to pay down debt and many developed economies move to tighten fiscal policy.
"The longer-term prospects for Travel & Tourism remain positive, boosted by rising prosperity in Asia. WTTC remains confident Travel & Tourism will remain a dynamic force for wealth and job creation" says Jean-Claude Baumgarten, President & CEO, WTTC.
"Over the next ten years, WTTC forecasts that the global Travel & Tourism economy will grow by 4.3% per year, implying its share of the global economy will rise to just over 10%. This will help create an additional 66 million jobs by 2020 - 50 million of which in Asia - acting as a key driver of poverty reduction."
Looking at growth in some world regions Asia is still set to see growth of 4.2%, however, this is slightly down from the initial forecast. Glancing over some key countries in Asia, China will remain the main engine of global growth over the next decade. India will enjoy a robust recovery following mild slowdown in 2009 whereas Japan's real GDP growth will increase gradually, reaching a cyclical peak in 2013.
Performing less well is Europe. This region will only manage a 1.4% growth this year (down 0.2%). Looking at some key countries in this region, the United Kingdom's Travel & Tourism Economy GDP will contract further this year, before growth starts to accelerate from 2011, with the 2012 Olympics set to boost activity. France and Spain will suffer further contraction in 2010 with no real growth until 2012 and Germany's strong visitor arrival growth will unfortunately be offset by weak outlook for investment.
Regarding the US, WTTC forecasts that despite sharp growth in foreign visitor arrivals so far, recovery in 2010 is dragged back by very weak investment and business travel, but long-term growth prospects for domestic (2.1 billion trips in 2010, of which 50% overnight) and inbound arrivals are optimistic.
WTTC was established in 1990 with members representing the world's foremost leaders in the private sector of Travel & Tourism. It aims to promote the importance of the industry as a generator of economic growth, encourage public-private partnerships, and persuade governments to adopt policies that will allow the industry to thrive.
According to WTTC, the Travel & Tourism Economy contributes US$5,834.5 billion to global GDP, 9.3% of the total. This is expected to grow to US$11,270 billion (9.7%) by 2020. The industry (directly and indirectly) supports over 235 million jobs in 2010, and the total is forecast to increase to just over 303 million by 2020. Travel & Tourism investment is estimated at US$1,255.5 billion in 2010 and should reach US$2,722.3 billion by 2020.-