EU fines eleven airlines 800 millon Euros for a global cargo cartel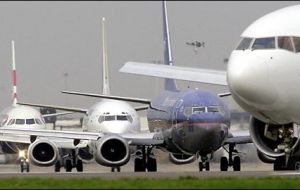 Europe's competition watchdog hit 11 airlines with nearly 800 million Euros in fines Tuesday for running a global cargo cartel that included Air France-KLM, British Airways and Japan Airlines.
"It is deplorable that so many major airlines coordinated their pricing to the detriment of European businesses and European consumers," said European competition commissioner Joaquin Almunia.
The fines, totalling 799.4 million Euros (1.1 billion dollars), were slapped on airlines that span the globe, from Air Canada and LAN Chile in the Americas to Cathay Pacific Airways and Singapore Airlines in Asia and Qantas in Australia.
However Lan, Latin America's largest carrier by market value, plans to appeal its fine, according to a statement posted on the website of Chile's securities regulator.
The 11 cargo carriers coordinated their action on surcharges for fuel and security without discounts over a six-year period, between December 1999 and February 2006, the European Commission said.
The cartel covered flights from, to and within the European Economic Area.
The Air France-KLM group was hit with the biggest fine, 310 million Euros, of which 183 million Euros was for Air France and 127 million Euros for KLM. Martinair, which is owned by Air France, was fined 29.5 million Euros. Air France-KLM said it plans to appeal the fine.
"The group will file an appeal against the decision in the EU General Court," it said in statement.
Elsewhere in Europe, British Airways was ordered to pay 104 million Euros, Scandinavia's SAS group was fined 70.2 million Euros and Luxembourg's Cargolux will have to pay 79.9 million Euros.
In Asia, Singapore Airlines was fined 74.8 million Euros, Cathay was hit with 57.1 million Euros and Japan Airlines will pay 35.7 million Euros.
Air Canada must pay 21 million Euros while Qantas and LAN Chile got the smallest fines, 8.9 million and 8.2 million Euros, respectively.
Lufthansa and its subsidiary Swiss International Air Lines escaped a fine under the commission's leniency programme for being the first to provide information about the cartel. The commission said it dropped charges against another 11 carriers and one consultancy firm which it did not name.
The cartel initially began with contacts between airlines to ensure that worldwide air freight carriers imposed a "flat rate surcharge per kilo for all shipments," the commission said.
The cooperation expanded with the introduction of a security surcharge. The companies refused to pay a commission on such surcharges to their clients, the regulator said.
"By refusing to pay a commission, the airlines ensured that surcharges did not become subject to competition through the granting of discounts to customers," the commission said.