East Asia more than doubles Latin America's investment in infrastructure
Monday, November 15th 2010 - 19:20 UTC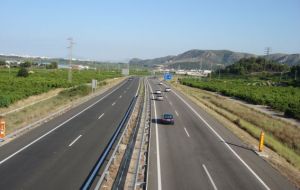 In spite of healthy economic growth in Latin America, local and foreign companies alike single out one area as deficient, especially compared with Asia: infrastructure.
While Latin America continues to spend 2 to 3% of GDP on infrastructure, East Asian economies are committing 6 to 10% of GDP, according to Jordan Schwartz, lead economist for Sustainable Development in the Latin America and the Caribbean Region at the World Bank.
"This has direct effects on competitiveness and growth and access of the poor to basic services. Commitments from the region's governments to re-engage with private partners wherever possible and to commit public resources where necessary will be a key factor in the region's return to growth, but the trick will be to make investments that are financially, economically and environmentally sustainable", pointed out Schwartz.
Recently announced public works plans may help to stimulate aggregate demand as well as fill some of the infrastructure gap.
However, the range of impacts on short-term employment is tremendous, varying by local wages, leakage levels, the speed with which money hits the road, and, most of all, the exact investments being planned—sewerage expansion projects typically generate 100 times more short-term, direct jobs than, say, the building of a coal-fired power plant points out the World Bank expert.
"Since today's capital expansion is tomorrow's recurring costs, Latin American countries' governments have to be careful not to build assets without a plan for long-term sustainability in mind".
Finally Schwartz points out that this means valuing the environmental impacts of quick decisions to build new roads or thermal power plants, building out in areas where consumers are willing and able to pay for services, and assuring that the private sector, even while lying low in a recession, is not being pushed out of a future role in investment and operations.
But within Latin America there are big differences, as the Latin Infrastructure Index from Latin Business Chronicle shows. The index of 19 countries looks at four key categories and 24 subcategories of infrastructure using data from The World Bank, the World Economic Forum, the International Telecommunications Union and Computer Industry Almanac.
The four key categories are transport, technology, electricity and water. Transport covers 16 subcategories such as the cost, time and documents required to export and import containers; the quality of ports, airports, roads and railway and overall logistics performance (which, in turn, includes factors like customs efficiency, ease of arranging competitively priced shipments, competence and quality of logistical services, ability to track and trace consignments, timeliness of shipments in reaching destination within the scheduled or expected delivery time.)
Brazil and Mexico, the region's top two economies, lag half a dozen of its neighbours in Latin America. Meanwhile, countries like Venezuela, Nicaragua and Haiti rank among the leading laggards.
Three countries stand out positively compared to the rest of Latin America: Panama, Chile and Uruguay.
Panama figures as the top of the list in overall infrastructure while Chile leads in transport and electricity, and Uruguay in technology and water