Uruguay formalizes relation with Palestine and plans representation in Ramallah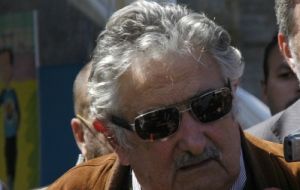 President Jose Mujica confirmed that Uruguay recognizes the Palestinian State and announced the establishment of a representation to begin bilateral relations. The announcement was done during the sixteenth congress of Ferab, Federation of Arab entities in Latinamerica which took place in Montevideo last week.
President Mujica addressed the gathering and on request from the chairman of Ferab-Uruguay, (former member of parliament Alem García), said that Uruguay is in the process of formalizing the recognition of the Palestinian state.
"We have announced publicly that we are going to recognize Palestine and our first representative will be concurrent from our permanent officer in Dubai. Because recognizing means making relations official and that is our purpose", said Mujica.
The president underlined the long established Uruguayan "integration philosophy" in international affairs.
"We have a culture of tolerance and integration philosophy for which we also need to trade, and many times we are exposed to not being understood, and not being able to trade, but I believe that tolerance and integration are what most can contribute to peace in Israel and Palestine", said Mujica in his speech.
Brazil and the rest of Latinamerican countries, such as Uruguay, are merely recognizing a fact of reality on formalizing relations with the Palestinian state.
"We are incorporating that fact and there's no justification for relations not to find a peaceful, good neighbourly existence", added Mujica.
At the end of his speech the Uruguayan president was congratulated and was invited to visit the region.
"I want to go, some day, I must go visit that land", was the reply.
A brief release from the Uruguayan Foreign Affairs ministry said that president Mujica's announcement only made official what was signed last April by the Foreign Affairs ministers from Uruguay and the Palestinian Authority when it was agreed to formalize "the existing friendly relations between both sides".
"Representation offices will be established in Ramalah and Montevideo" but at the beginning the offices will be manned from representations in neighbouring countries.
However Uruguayan diplomatic sources pointed out that Uruguay is not establishing formal diplomatic relations with the National Palestinian Authority: "Uruguay established formal relations, not diplomatic relations. It's the system applied by European Union country members and most in the Latinamerican region. Uruguay is one of the last countries in doing so".
Some countries in Eastern Europe (former Soviet satellites) have full diplomatic relations with the Palestinian Authority.
The same sources said that the decision will not affect diplomatic relations with Israel since 102 countries in the world have formal relations with Palestine and Uruguay has opted for this predominant system.