Chavez provokes the opposition by naming controversial general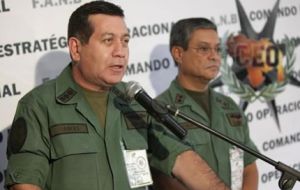 Venezuelan President Hugo Chavez promoted a general criticized for vowing not to cooperate with opposition leaders should they take power after 2012 elections, raising tensions in the run-up toward the vote.
Henry Rangel Silva will take over as General-in-Chief, Chavez said on state television. The military won't tolerate an opposition government because it would try to "sell" the country, the general said in a November 8 interview published in Caracas Ultimas Noticias.
"The imperialist oligarchs will never have an Armed Forces subordinated in the shadows to their gross interests" Chavez said on announcing the appointment.
The promotion coincides with the opposition's rising popularity amid soaring inflation, rising crime and a shrinking economy. Chavez lost his two-thirds majority in the National Assembly in September and will seek a third six-year term in 2012 that would allow him to rule until 2019.
Chavez, a former paratrooper who was jailed in 1992 for a failed bloody coup attempt, took power in 1998 elections. Chavez also lashed out against Jose Miguel Insulza, Secretary General of the Organization of American States, who called Rangel's remarks "unacceptable" in an interview published Sunday in the Miami Herald.
"Now Insulza is saying that he's calling for a coup," Chavez said. "Don't be ridiculous. You're irresponsible, unworthy. Get the facts first."
Chavez said Rangel is free to express his political opinions and that the opposition won't be able to sway favours in the military ranks.
"The Armed Forces don't have partial loyalty, rather complete loyalty to the people, a life project and a Commander- in-Chief. We're married with this project," Rangel said during the Nov. 8 interview.
Chavez recalled that earlier in his presidency he was a victim of generals that were aligned with the U.S. He was briefly ousted from power in a coup in 2002.