Chile's copper dependency has taken a turn for the worse: 55% of all exports
Tuesday, November 16th 2010 - 23:33 UTC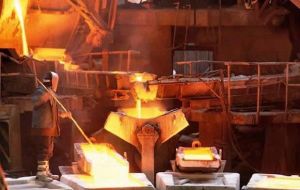 Chile's long-term effort to wean itself away from copper dependency appears to have taken a turn for the worse: economist Hernan Frigolett reported that the booming demand for copper has led to extremely high prices (over US$4 per pound), meaning that copper accounted for 55% of the nation's exports in the second quarter of 2010.
Frigolett reports that copper export volumes have remained roughly the same as last year, but prices are much higher – even while prices fetched by other segments of Chile's export driven economy have faltered (fish products and fresh fruit, for example).
A more diversified export scene, say most experts, makes for a safer, more stable economy. But given the expected continued strong demand from China and India, copper prices are anticipated to remain high in the next two to four years and to continue to account for more than one half of Chile's exports.
Chile's abundant copper resources have always been seen a mixed blessing. As former Finance Minister Nicolas Eyzaguirre famously once put it: "Chile is cursed with a wealth of natural resources." Dependency on natural resources wealth, explained Eyzaguirre, has kept Chile from diversifying its economic base.
And when demand for the nation's natural resource wanes (as occurred with nitrates in the late 1800s), the nation's economy goes bottom up.
In today's world, a recession in copper hungry China, say most economists, would severely impact Chile's economy because copper exports to China are such a big part of the nation's GNP.
Economist Leonardo Suarez points out that copper production in 1996 was 5.6% of Chile's GNP, while today it is 16.3%.
Chile's dependency on copper exports has varied extremely over the years. In 1990, for example, copper accounted for just 30% of Chile's exports. Fruit, forestry and fish exports had a much stronger role in a more diversified national economy.
In the early 1970s however copper export was 80% of the nation's foreign exports. Congress at that time – led by Socialist President Salvador Allende - moved to nationalize the nation's copper resources as a way to assert its economic independence from often-time intrusive international corporations.
The state-owned Codelco copper company was created then through the acquisition of the nation's largest foreign held copper companies.
The nation's support of the nationalization was so strong that even military dictator Gen. Augusto Pinochet dared not return Codelco's holdings back to the private sector.
But the dictator did open the door for new private sector exploration and exploitation to occur. As a result, Codelco still remains that largest copper company in the world, but more than one half of Chile's copper exports are now controlled by foreign trans-nationals.
By Steve Anderson (editor@santiagotimes.cl)