China and Argentina formalize 'trade peace" and become 'strategic partners'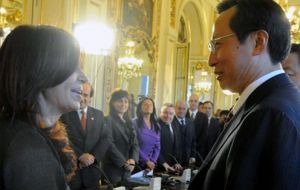 President Cristina Kirchner received China's visiting Agriculture Minister Han Changfu on Monday at Government House in Buenos Aires, formally ending a six month trade war that threatened Argentina's standing as the world's leading soybean oil exporter.
"Argentina is a great agricultural power and strategic partner. We're interested in boosting our mutual bilateral relation with Argentine businessmen," Han told the Chamber of Commerce of Rosario, Argentina's third largest city and biggest farming hub, over the weekend. Han arrived in Argentina last Friday.
Cristina Kirchner and Chen's meeting signalled warming trade relations between the two countries after China suspended soybean oil imports from Argentina from May to October, in retaliation to restrictions on Chinese imports last year amid the global economic crisis.
Argentina is the world's largest exporter of soybean oil, and China is one of its biggest customers -- it supplies 70% of China's soybean oil imports (4.6 million tons in 2009) for some two billion dollars a year.
Argentina is the third largest supplier of agricultural products to China after the United States and Brazil, according to official statistics.
"China is a strategic partner for Argentina's consolidation as one of the world's leading food suppliers, and our priority is strengthening our relations in the agro-industrial sector" said Argentina's Agriculture Minister Julian Dominguez.
Dominguez in two weeks will visit China to open an agriculture office in Shanghai, seal a beer barley exporting deal and seek to boost beef exports to China, said officials in Buenos Aires.
In 2009, Argentine agricultural exports to China reached four billion dollars, exceeding the country's shipments to other Asian countries, the European Union and the other three Mercosur countries -- Brazil, Paraguay and Uruguay.
Sales of soybean, poultry, cattle hides, peanut oil and other products to China have since grown, reaching 5.1 billion dollars by September.
Argentina is the world's largest exporter of sunflower oil, a leading exporter of soybean oil and among the top five exporters of soybean and corn. More than a third of Argentina's exports are in agricultural products, which analysts say could fetch some 25 billion dollars during the 2010-2011 season.