"Global crisis is not over, getting worse" says the richest man on earth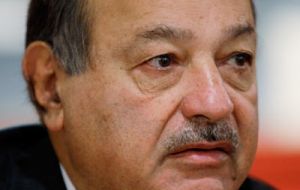 "The global crisis is not over, nothing has been solved, only patches to avoid the worst effects of a great depression", according to Carlos Slim, the Mexican tycoon considered by Forbes the wealthiest man on earth, currently in Buenos Aires for a round of conferences.
"The problem is getting worse since countries have accumulated more debt, more deficits and unemployment is record climbing in many places", added Slim whose empire covers telecommunications, mining, real estate, media, infrastructure, among other businesses.
Slim also argued that there is no such thing as a "currencies war" but rather the United States devaluing the dollar to try and limit imports. "But what's the purpose of having China revalue its currency the Yuan if the US simply does not produce much of what it imports from Asia".
The Mexican billionaire argues it would be better for China to increase the salaries of its people so that the market becomes larger, strengthening not only China but also becoming a market for the products is does not manufacture.
Slim is participating in a round of conferences sponsored by the so called Montevideo Circle Foundation which brings together former Latinamerican presidents and Spain's Felipe Gonzalez.
He also had time to meet President Cristina Fernandez de Kirchner confirming that his telecommunications company America Movil is planning to invest 420 million US dollars in Argentina in 2011 after having pumped 380 million this year.
"With the new technological generation: a wide band at greater speed, investments are larger. And to make then even bigger, Argentina could try and make the mobile wide band operational next year", said Slim after meeting Cristina Kirchner.
Slim wants to expand his company's fixed and mobile phone networks and wide band to cater corporate and residential clients in Argentina, where he operates under the company name of Claro.
Argentine sources said that the Mexican businessman is interested in having access to cable television through phone companies, of which his company America Movil leads in the region. This refers to the so called triple-play: phone, wide band and television, implemented through an only operator.
Slim was presented to the Montevideo Circle Foundation by his panel partner, former Spanish president and Socialist leader Felipe Gonzalez who praised his business talent and his counter-cyclical focus.
"When thing are running smoothly, the world is optimistic and enthusiastic and everything is much dearer, Carlos saves and accumulates. So that when the world is rock bottom depressed because all has melted, he has sufficient capital to begin buying in a bargains' market, following the financial implosion", said Gonzalez.
Slim said he was optimistic about the future of the region, in ten to fifteen years several Latinamerican countries will have left their condition of underdeveloped beginning with Chile and including Argentina.
"It's evident that in the last two government periods the (Argentine) economy has been working very well, middle classes are back again. That is why mobile phones which in 2002 had an 18% penetration in seven years have reached 125%. That can only be achieved because country conditions have significantly improved", pointed out Slim.
The Mexican entrepreneur also had a special mention for the recently deceased Nestor Kirchner, "it's very saddening the death of President Kirchner, but I believe Argentina is in good hands. Mrs Kirchner is well prepared and has done a great job in the years she has been ruling".
When asked specifically about the Federal Reserve's recent decision to pump an additional 600 billion US dollars to the US economy, Slim said he didn't feel it was necessary.
"I don't feel that it's very convenient to continue with such a strong monetary policy".
The low interest rates in developed countries and lax monetary policy at the Fed have spurred investors to dump US securities in favour of commodities and the higher-yielding financial assets of fast-growing economies in Asia and Latin America.