Uruguay to investigate "suspicious" fires in Korean jiggers docked in Montevideo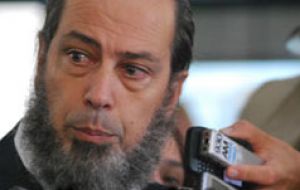 Uruguay has ordered an in depth investigation to all fires in fishing vessels occurred in the port of Montevideo since 2008 following a second incident in two days, Monday and Wednesday early dawn, involving a Korean flagged trawler and a now jigger.
In the latest incident with the Seogin XI, 28 crew members were rescued but there's one missing believed to be trapped in the engine room, and as with the trawler the jigger had to be towed out 500 metres into the bay to avoid explosion risks from fuel tanks or hazardous leaks from the ammoniac stored for the freezing system.

"I've requested the Navy an in depth investigation going back to 2008, into all fishing vessels that have caught fire in the port of Montevideo. I want to know about the technical reports, intelligence reports if there are, measures adopted, the current situation and suggestions and ideas on how we move or should move from here onwards", said Defence minister Luis Rosadilla
"It has gone too far and it's dam suspicious", said the minister and "I wish I'm wrong but there are too many coincidences. I don't want to live in a banana republic and public opinion wants replies and they will have them", added the minister.
"I sincerely hope that in a few days time I will have on my desk a report, sufficiently logic, of each and every incident, and that the necessary measures have been adopted. We can't go on like this. These fires seem to break out early dawn Mondays, what a coincidence".
Meantime authorities have sent naval and Fire Department personnel in random surprise visits to the different fishing vessels docked in Montevideo.
Wednesday's jigger fire follows on Monday's when a Korean flagged 39 crew trawler had to be towed out to the bay (tanks full of fuel and ammoniac) preventing the scheduled official launching of the Uruguayan cruise season Monday midday.
The incident also forced a cruise vessel to abandon the port and two others had to sail on to Buenos Aires. Over 2.500 visitors and crew members could not land in Montevideo.
"It's very surprising: these fires break out in vessels which are operational, at night in early dawn hours, when they have been replenished with fuel and as we know Korean vessels have a cold storage system based on ammoniac which is highly hazardous", said Alberto Díaz, president of Uruguay's ports administration authority, ANP.
In some cases leaks of ammoniac have forced authorities to evacuate areas close to the port of Montevideo because of the toxic fog.
Public Works and Transport minister Enrique Pintado said that the Uruguayan Foreign Office would be signing agreements with countries of the different fishing flags so that "we can inspect and if necessary sanction those vessels that do not comply with a minimum standard of agreed safety and security measures".
Captain Anselmo Borges, Uruguayan Navy head of the PR office said that at mid day Wednesday the Seogin XI trawler was still burning and covered in smoke.
"It's too soon to begin an inspection of the remains. The whole metal structure is too hot and risky. We'll have to wait for it to cool and then after special teams board it, we can proceed to a full inquiry", said Captain Borges.
In spite of the losses caused to port activities and the cruise industry by the two incidents, a former head of ANP, Fernando Puntigliano cautioned that "the fishing vessels issue" is not new, and "many people depend on the fishing industry directly and indirectly, so no drastic measures should be adopted; let's cool down and then decide".
However current and former ANP authorities admitted that in the past there has been an element of "intentionality" in some cases since the crew in some Asian jiggers, poorly paid, is virtually stranded in Montevideo, and when fire breaks out "they see it as a quick way of returning home".
Besides, many of the vessels are not insured, and the Uruguayan government has had to run with the costs.
According to ANP and Fire Department records, ten Korean flagged vessels have seen victims of fire since January 2009 seven last year and three in 2010.
A year ago in a similar incident some docks of the port and adjoining areas of Montevideo had to be evacuated because of ammoniac leaks following fires in Korean vessels.