Ireland's dilemma: sovereign solvency or rescuing the banking system
Thursday, November 18th 2010 - 18:35 UTC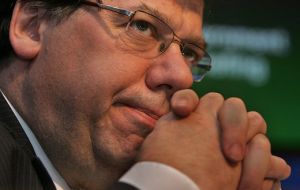 Emergency talks were being held in Dublin overnight as fears about Ireland's ailing banking system forced the deployment of a team from the European Union, the International Monetary Fund and the European Central Bank.
Signs were emerging that Ireland is poised to accept some kind of rescue package. Irish Prime Minister Brian Cowen has insisted the IMF and EU team will explore the need for assistance, but not a bailout.
However, financial analysts in Europe warn that there is growing evidence of dwindling bank deposits in all the big Irish banks and yesterday it was confirmed that Irish Life and Permanent corporate customers had withdrawn €600 million - more than 11% of the total - between August and September
Similar trends have been reported at the Bank of Ireland and Allied Irish Banks. Both are due to present third-quarter results today.
The crisis comes only a few months after the Greek financial crunch and what most agreed was an 11th-hour escape for the Euro zone. Now, as the Irish struggle to retain market confidence, European finance ministers are growing increasingly fearful that the jitters will spread to other fragile economies, including Spain and Portugal.
The problem for Ireland lies in the dilemma of concentrating on sovereign solvency or focusing on rescuing its banks.
Dublin says it has enough cash to keep the workings of government going for another six months, but keeping the banks afloat with public funds will only increase sovereign problems. The fear is that if Irish banks collapse, failures could be triggered across the continent as already stressed banking institutions try to deal with mortgage arrears, higher debt costs and the outward flow of deposits.
Irish Finance Minister Brian Lenihan said Europe had welcomed the republic's promise to embark on a four-year, €15 billion austerity drive, to be detailed in a budget on December 7. But he conceded the banking system needed assistance: "What may be required may not … be an actual transfer of money now but demonstration of how much money can be made available if further difficulties materialize.''
The Irish government has suggested €50 billion could be needed to stabilize the banks, but some investors fear it could be much higher. Banks in Ireland have been decimated by the real estate crash, and an injection of taxpayer-funded capital to the tune of €50 billion has already been absorbed.
Increasingly, the banks are finding it difficult to raise money anywhere other than the European Central Bank's special liquidity facilities.
The EU appears to be split over a response, although ultimately pressure appears to be for Ireland and other vulnerable nations to borrow from more solid ones - only to save the big state's banks from losses sparked by contagion.
Britain's Financial Times has warned that "this game of bailouts on the sly cannot be sustained for much longer".
"Preparations must now be made for dealing with a run on banks'' it said. ''Countries that have yet to put in place special insolvency regimes - Ireland included - must do so without delay. They must allow states swiftly to take control of banks so as to keep operations going during a panic".