Brazilian central bank chief steps down from president-elect Rousseff's team
Friday, November 19th 2010 - 16:01 UTC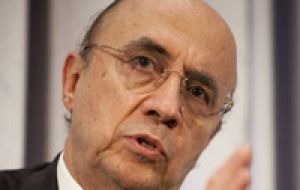 Brazilian central bank president Henrique Meirelles will not accept any invitation to remain as head of the bank unless president-elect Dilma Rousseff gives him full guarantees of "absolute autonomy" in running the institution. He also rejects the idea of holding on the job during the first quarter of 2011 until a definitive successor is named.
Meirelles believes that yielding autonomy, (and there are there are strong indications that the incoming president plans to lower interest rates faster and have them two percentage points above inflation by 2014), because it would compromise his career and credibility conquered during the eight years as head of the bank with outgoing President Lula da Silva.
According to the influential O Estado de Sao Paulo the most probable exit to the situation is for Mireilles to step down and be replaced by a banker closer to the line of thinking of Ms Rousseff and Finance minister Guido Mantega who has been confirmed at his post.
Ms Rousseff considers that Meirelles role was very important in implementing President Lula da Silva administration policy to combat inflation, and was also very effective when he applied contention measures to address the 2008/2009 global crisis, forcing Brazilian banks to inject 100 billion Real into the economy to ensure liquidity and credit both for corporations and individuals.
But "Dilma wants to centralize all economic actions at the beginning of her government". She argues that the central bank together with the Finance ministry and the Planning Office should find "other ways to combat inflation, currently virtually restricted to raising interest rates".
"Since Dilma is intent in lowering interest rates as soon as she takes office; she would like to see the central bank Monetary Policy Council, Copom, in the first annual meeting effectively cutting interest rates, sending a strong signal about her policies".
Apparently Meirelles seems uncomfortable with these reports and much less having his name linked to a possible "tampon" action while a successor to his post is nominated. The central bank president said that working with President Lula da Silva he was "never exposed to any sort of pressure or influence".

The Sao Paulo newspaper also revealed that Meirelles feels that after eight years as head of the central bank, "he's qualified to occupy any other government post, be it ministerial or even the Brazilian embassy in Washington", where the former Bank of Boston CEO has excellent contacts.
"Therefore loosing autonomy on accepting to stay on as central bank president could be the biggest mistake of his life, capable of melting the prospect of a biography on his performance" as a most successful orthodox economist.
President-elect Rousseff has repeatedly said that planning to centralize economic decisions on the tripod: inflation target, fluctuating exchange rate and balanced budget, does not mean individual responsibilities.
Speaking from Frankfort Meirelles said that Brazil's current account deficit will soar in 2011 to 67 billion US dollars from the current 39 billion in 2010. He also anticipated that the Brazilian economy will expand 7.3% this year moderating in 2011 possibly more in line with the "true potential rate" of the economy.
Meirelles said that world governments should work towards a "global coordination", but at the same time each country must be very clear in protecting its domestic economy from "global misbalances".
"We favour a global equilibrium, a global coordination and a path that avoids these kinds of distortions. And more specifically that Brazil should not be forced to adopt measures to protect its economy", underlined Meirelles.
The central banker admitted "some risks" for Brazil of asset-price bubbles because of the excessive liquidity and the massive inflow of capital, but "we are trying our best to address vigorously such situations to prevent domestic misbalances and asset bubbles".