Brazil's air transport infrastructure is a "growing disaster", says IATA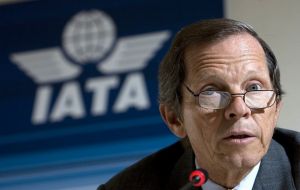 The chief of the International Air Transport Association or IATA sharply criticized the poor condition of Brazil airports, saying that the situation could put the country in a very bad light during the World Cup and the Olympic Games if the government does not improve capacity and renovate aging infrastructure.
IATA chief executive officer Giovanni Bisignani expressed his dissatisfaction at a conference of the travel industry held in Panama.
"Brazil is Latin America's largest and fastest growing economy but air transport infrastructure is a growing disaster" Bisignani said at the Latin American and Caribbean Air Transport Association conference.
"To avoid a national embarrassment, Brazil needs bigger and better facilities for the 2014 FIFA World Cup and the 2016 Olympics. But I don't see progress and the clock is ticking," he said.
The country's airports have not been able to handle the increased passenger traffic brought about by economic progress. According to the IATA official, at least 13 out of 20 domestic terminals are beyond capacity and Sao Paulo, the country's largest passenger hub, is already under strain. Residents and tourists have had to deal with numerous flight delays and postponements because of the situation.
Observers note that the Brazilian government is to blame for the inadequate airport infrastructure. Runways and radar equipment have not been properly maintained because of budget cuts. Training air traffic controllers and the installation of safety systems have not been prioritized.
Brazil's capability to improve its airports by the time the Olympics start has also been questioned by the International Olympic Committee. The IOC has already made it known to Brazilian authorities that the country's airports need to be improved.