Rio Grande in south Brazil geared to become "Mercosur hub and main port"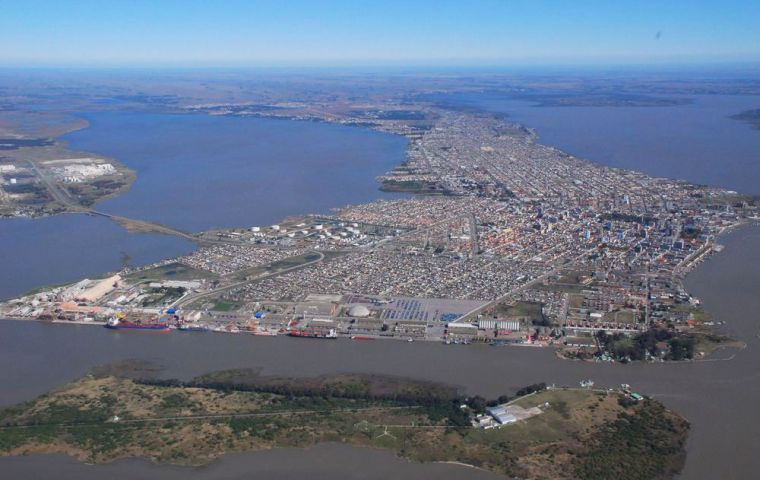 Rio Grande in the south of Brazil has rapidly become the main competitor of the port of Montevideo based on a sustained expansion, deep dredging, the construction of new piers and update equipment.
"The port of Rio Grande in (the state of) Rio Grande do Sul has a strategic importance that goes beyond the limits of our state and even Brazil", said Jaime Ramis, administrator of Rio Grande who anticipated that "it will soon become the hub for the region", including Argentina, Paraguay, Uruguay and Bolivia.
In an interview with Jornal do Brasil, Ramis said that with an access canal dredged to 14/16 metres "we have a clear operational edge which enables us to host 8.500 TEU container vessels, which only operate in the north of Europe and Asia. The average in Brazilian ports is 2.300 TEUs".
This means that from average 50.000 tons vessels "we can now operate with 80.000 tons which implies a significant reduction in freight costs per ton, making Rio Grande, a most competitive port".
Ramis admitted that Rio Grande which is also preparing to become a logistics support for the southern end of Brazil's hydrocarbons offshore deposits and booming oil industry "should also take advantage of its position as the Mercosur port".
Buenos Aires and Montevideo have restrictions because of the relatively shallow access canals and are constantly exposed to the sedimentation of the River Plate which demands permanent expensive dredging.
"With 14/16 metres we can handle any cargo from the River Plate basin such as grains from Argentina, Bolivia and Paraguay; iron ore from Matto Grosso do Sul and Bolivia; wood from Uruguay and even containers from Argentina, Uruguay and Paraguay" agued Ramis.
Rio Grande can operate as the regional Mercosur hub, while smaller vessels make the distribution runs to the other less operational terminals.
"Ten years ago, Rio Grande had an annual turnover of 15 million tons of cargo. In 2007 we reached a peak of 26.5 million tons because of record crops, a strong Brazilian currency, good logistics and expansion of the domestic market. At the end of 2010 we should be reaching 30 million tons, and in the coming five years should be close to 50 million tons", revealed Ramis.
"We are determined to become the Mercosur hub for maritime traffic" underlined the administrator or the Rio Grande port.