Colombian oil industry booming; Ecopetrol plans 8.5 billion investments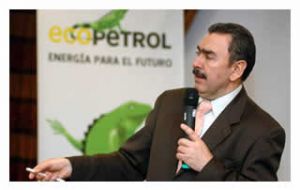 Colombian state oil company Ecopetrol announced investments of roughly 8.5 billion US dollars in 2011, with 5% of that total to be allocated for projects in the United States, Brazil and Peru.
Ecopetrol CEO Javier Gutierrez said in a statement that the board of directors has already approved a 6.7 billion investment plan and has assigned the company a 1.8 billion contingent budget for projects currently in the development phase.
Those plans are still pending completion of certain requirements and will be presented to the board of directors for its approval in the coming months.
"The 2011 investment plan is key for Ecopetrol in its strategy of meeting the goals we have set for ourselves for the years 2015 and 2020. In 2011, important initiatives and projects will be undertaken that will make it possible for us to fulfil our value promise to our shareholders," Gutierrez was quoted as saying in the company's press release.
Therefore Ecopetrol investments in 2011 should total 8.5 billion.
"Additionally to the of the 8.5 billion investment plan for 2011, another 1.5 billion is destined to inter-company contributions and loans to the company's subsidiaries and affiliates, and does not include funds for possible acquisitions" pointed out Ecopetrol.
Some 95% of the total investment outlay will be made in Colombia, while the remaining 5% for exploration and production projects in the United States, Brazil and Peru, where Ecopetrol already has operations.
Gutierrez added that, as in the past few years, the majority of the investments, 60%will be earmarked for exploration and production.
"2011 will be the year to show that we are on the right path toward making true our vision as a business group," Gutierrez said.
Ecopetrol, Colombia's largest firm is one of the world's 40 top oil and gas companies and only behind Petrobras (Brazil), Pemex (Mexico) and PVDSA (Venezuela) in Latin America.
Colombia has become South America's fourth oil producer behind Brazil, Venezuela and Argentina and ahead of OPEC member Ecuador.
Daily production in 2009 reached 680.000 bpd and keeps increasing, making Colombia a significant supplier of the United States.