World leaders promise funds and plan to double tigers in the wild by 2022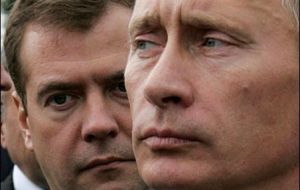 World leaders and countries that have wild tigers endorsed a major plan to double the number of tigers in the wild by 2022 underscoring their commitments at the historic International Tiger Conservation Forum.
Hosted by Russian Prime Minister Vladimir Putin in St. Petersburg, governments capped a year-long political process with about USD 127 million in new funding to support the plan, known as the Global Tiger Recovery Program.
In addition, the World Bank has offered a 100 million USD loan package to three tiger range countries for conservation work, and the Global Environment Facility committed to provide USD 12 million in new funding to regional tiger projects that show benefits for biodiversity and reductions in carbon emissions.
PM Putin offered to share his country's growing tiger population with other countries to help save the big wild cat from extinction.
"Tiger families from Russia could start the process of reviving tiger populations where they have completely disappeared, in such countries as Kazakhstan and Iran," said Mr. Putin, addressing the "Tiger Summit" in St. Petersburg.
He recalled his country's successes in restoring the tiger population. "Over the past 60 years the number of Amur tigers, whose habitat is almost exclusively in Russia, has increased more than 10 times over and today amounts to about 500," whereas across the world the tiger population has shrunk by 97 per cent.
Putin expressed confidence that the Global Tiger Recovery Program adopted at the St. Petersburg summit would enhance inter-state coordination and concentration of financial, organization and technical resources to reverse the decline in the tiger population.
"The situation of the tiger is close to catastrophe" Putin told an audience of top officials and heads of government including Chinese Prime Minister Wen Jiabao and Bangladesh Prime Minister Sheikh Hasina.
The summit received a high-profile boost earlier when it emerged that Hollywood star Leonardo DiCaprio pledged one million dollars to save the tiger, and was scheduled to attend the meeting.
World Bank president Robert Zoellick said the institution hoped to provide about 100 million dollars to save the wild tiger by supporting wildlife habitat protection and stopping the illegal trade in tiger body parts.
"We have little margin for error. This summit is highlighting the last chance for this incredible animal," he said.
Sheikh Hasina said that after the summit the world now stood united in efforts to save "these magical creatures".
Poaching, often in pursuit of tiger parts destined for the lucrative Chinese medicinal market and habitat destruction have caused the drastic weakening of the world's tiger population over the last years.
Along with Russia, 12 other countries host fragile tiger populations -- Bangladesh, Bhutan, Cambodia, China, India, Indonesia, Laos, Malaysia, Myanmar, Nepal, Thailand and Vietnam.