First time ever woman president (for a few days) in Uruguay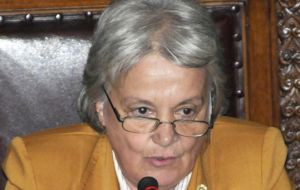 Uruguay's First Lady and speaker of the main Senate group in the ruling coalition Lucia Topolansky will be sworn as interim president on Friday, the first woman-president in the history of the Uruguayan democracy.
Senator Topolansky will take the seat of her husband President Jose Mujica who on Friday travels with a business delegation to Spain. Second in succession Vice-president and president of the General Assembly Senator Danilo Astori is currently in an official mission in Korea and is not scheduled to return until Sunday when the First Lady's brief presidential experience will be over.
"I will be signing the Executive record Friday, and then I'll let you know what I will be doing", said Senator Topolansky when asked what she was planning to do as acting president.
However her agenda is overflowing with labour strife and protests: bank employees, doctors, Judiciary branch staff, Customs, air comptrollers, government companies are on strike demanding higher salaries and better working conditions.
The Uruguayan Senate is currently discussing the budget for the next fiver years and the different sectors are pushing and shoving for a piece of the cake as the deadline approaches.
Besides there's internal infighting over control of the unions as some factions from the senior member of the ruling Broad Front coalition, MPP, are disputing the hegemony of the Communist party in organized labour.
Ms Topolansky thus joins the ranks albeit temporarily, of Latinamerican countries ruled by elected women: Cristina Fernandez in Argentina; president-elect Dilma Rousseff in Brazil; former Chilean president Michelle Bachelet in Chile; Laura Chinchilla in Costa Rica; former Panamanian leader Mireya Moscoso, among others.
Under the Uruguayan constitution the line of succession behind president and vice-president falls on the Senator top of the slate from the most voted group to the Upper House.