Obama begins to attack budget deficit: freezes federal workers pay for two years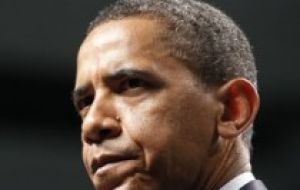 Amid expectations over President Barack Obama's comments on the Wikileaks scandal, he instead offered a speech to announce a two-year freeze on the pay of federal workers, as he seeks to show he is committed to reining in the ballooning US budget deficit.
The freeze would save 2 billion US dollars in the current 2011 fiscal year, 28 billion over the next five years, and more than 60 billion over 10 years, according to the White House. It would apply only to civilian workers.
The move is part of an effort by Obama to push back against opposition Republicans, who have labeled the president and his Democrats as big spenders while taking aim at his policies such as an 814 billion stimulus package and healthcare reform.
"Just as families and businesses around the nations are tightening their belts in this economy, so must the government," said White House spokesman Dan Pfeiffer.
Fresh from big victories in congressional elections earlier this month, Republicans have vowed to cut domestic spending and have talked of freezing the pay of government workers.
Republicans have tried to put Obama on the defensive about the budget deficit, which hit 1.3 trillion USD in the fiscal year that ended in September.
Obama, who took office in January last year, has countered that the deficit is a legacy of the policies of President George W. Bush's administration.