Petrobras confirms major oil find onshore in the Amazon region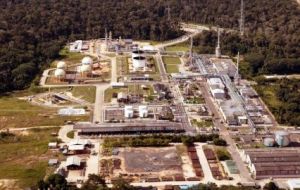 Brazilian government controlled oil and gas corporation Petrobras announced the discovery of a new crude deposit in the Amazon region, where the energy company already is developing large natural gas reserves.
The new onshore find was confirmed after an extended well test near the Amazon town of Tefe, some 630 kilometers from Manaus, the largest city in Brazil's Amazon region.
The Igarape Chibata exploratory well was drilled to a depth of 3,485 meters in the Solimoes Basin, within a block in which Petrobras has full exploration and production rights, the company said in a statement.
The deposit is located 32 kilometers from the Urucu oil province, where Petrobras is developing three natural gas deposits that supply Manaus and will feed a thermoelectric plant inaugurated in that region Friday by President Lula da Silva.
According to Petrobras, whose shares are traded on the Sao Paulo, New York, Madrid and Buenos Aires stock exchanges the newly discovered crude is very high-quality, light oil with an American Petroleum Institute gravity of 46 degrees.
Even though the exploratory well's 2,500-barrel-per-day capacity is small compared with other areas under development by Petrobras, the company said the result of the well test was "excellent considering that type of basin in Brazil."
The company added in its statement that it will conduct more seismic studies and test drilling to determine the size of the Amazon deposit, assess its commercial viability and quantify the reserves.
By comparison, each well in the Tupi concession, one of many newly discovered fields in the massive pre-salt area off Brazil's coast, has the capacity to produce 30,000 barrels per day.
Brazilian authorities are hopeful that development of the pre-salt reserves - so-named because they are located deep below the ocean floor under a layer of salt up to 2 kilometers thick, wll quintuple the country's current proven reserves of 14 billion barrels and transform the South American nation into a major oil power.