Belgium joins list of European countries with mounting financial problems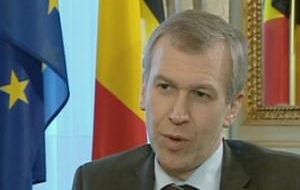 Belgium has joined Portugal, Spain and Italy on the hit list of countries that may be heading for financial crisis. Like Ireland, struggling to fend off criticism of its austerity package, there are signs that international bond investors are starting to view Belgium as living on borrowed money and borrowed time.
To make matters worse, it has a broken political system and is without a government since April. International money market traders pushed on Monday the cost of insuring Belgium's debts to record levels. The interest payments still fall short of those charged for Spain's government the Portuguese, but analysts said the gap was narrowing quickly.
"Belgium is having to pay a political risk premium, because it still doesn't have a government in place to make decisions over how to curb its spending and its debts, which is what the market wants to see," said one analyst.
While the rest of the continent has wrestled with the question of what to cut and when in an effort to control government spending, the 10 million Belgians have been locked in a three-year row between Flemings and Walloons over how to govern a constituency encompassing Brussels and its suburbs, focus of a dispute over voting rights among the language groups.
In April the government of two times Prime Minister Yves Leterme collapsed when he failed to resolve what had become a constitutional crisis centered on the linguistically at odds constituency of Brussels-Halle-Vilvoorde. An election in June split the country. The majority of Flemish voters want a dose of British-style austerity, a range of socialist parties from both parts of the country - which as a group did fairly well in the election and form the largest bloc - refuse to agree any cuts.
In the febrile atmosphere of trading in government debt, any country without a coherent plan can be seen as irresponsible or with something to hide.
The premium to insure Belgium's debts rose 5% Monday: it now costs £155,000 to insure £10m of Belgian bonds against the possibility of default. The cost of insuring Spanish and Portuguese debt was up again, £312,000 and £510,000 respectively.
A government spokesman denied that Belgium was in trouble, saying makes the character of our debts very different to the UK.
"We are net savers. So our government does not need to refinance its debts in the same way as the UK, which has borrowed more internationally."