Hillary praises US diplomats: "they are doing the work we want them to do"
Tuesday, November 30th 2010 - 05:31 UTC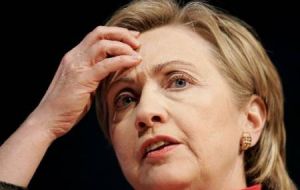 US Secretary of State, Hillary Clinton, gave a press conference Monday in which she responded and charged against online whistle-blower Wikileaks after the worldwide diplomatic repercussions over the contents of 250,000 classified documents.
Clinton, who has herself been accused of encouraging US diplomats to engage in low-level espionage, came out to stage just as she leaves on a four-day tour of Central Asia and the Middle East, areas that feature prominently in the leaked cables.
Clinton slashed down on Wikileaks's action and said that "The US condemns the illegal disclosure of classified material and/or any information that was intended to be private."
"Stealing confident documents and releasing them does not serve the public good and is not the way to engage in a public debate. Every country must be able to have honest, private conversations to do their work."
"The work of our diplomats does not just benefit Americans; it benefits others around the world. What is being put on display is that American diplomats are doing the work we want them to do. There is nothing laudable in endangering innocent people."
"To the American people, I want you to know we are taking aggressive steps to seek those who stole these documents."
"Let's be clear: this disclosure is an attack on the international community. I am confident the relationships we have built in this administration will survive this challenge."
Asked about how it may affect the ties between the US and some specific countries mentioned in the cables including Iran, Clinton said: "It is imperative we have candid reporting from those in the field to inform decision-making in Washington. One of my counterparts said, don't worry about it - you should see what we say about you. I think it should not be a surprise to anyone that Iran is a concern for many outside the US. Iran poses a very serious threat in the eyes of her neighbours, and the concern about Iran is well-founded."
WikiLeaks claims it has released the information to "reveal the contradictions between the US's public persona and what it says behind closed doors" and to encourage citizens to push for more information about what goes on "behind the scenes".
The most shocking revelation so far is the pressure put on the US by Arabic states to take pre-emptive action against Iran before it develops nuclear weapons.
But plenty more embarrassing details have also been leaked.
Personal opinions from diplomats on their host nations and unflattering comments on world leaders have been unveiled.
Requests by Mrs Clinton and her predecessor Condoleezza Rice for diplomats to obtain personal details of people they meet including frequent flyer numbers, credit card details, iris scans, fingerprints, and even DNA, have caused a furrow.
Clinton is now due to meet Russian President Dmitry Medevedev and German Chancellor Angela Merkel, who were both insulted in leaked cables.
Medvedev was described as "playing Robin to Putin's Batman", while Merkel was referred to as someone who "avoids risk and is seldom creative".
In light of the revelations, apparently leaked by junior US Army soldier Bradley Manning, Obama's administration has ordered a review of how sensitive was the information handled in.
The US government, informed in advance of the leaked document contents, has contacted governments around the world, including in Russia, Europe and the Middle East, to try to limit the damage.