Brazil's natural gas production record in October: 65 million cubic metres per day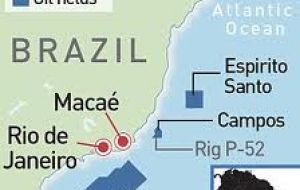 Brazil's natural gas output reached a record 65 million cubic meters a day in October, up 9.3% from the same month in 2009, Brazil's National Petroleum Agency, or ANP, said Tuesday. The gas output was also 1.64% higher than in September, ANP said.
October output of oil and gas combined were, however, virtually stable from last year's levels. Output at 2.406 million barrels of oil equivalent per day was just 0.36% higher than in October 2009 and stable compared with September 2010's output, the agency said.
Fields operated by Petroleo Brasileiro SA (PBR, PETR4.BR), or Petrobras, accounted for 92.4% of total output.
Brazil's oil output in October was about 1.998 million barrels a day, ANP said.
Presalt production areas provided 43,978 barrels a day of oil and 1.607 million cubic meters a day of natural gas, ANP said.