Euro at 11 month low and Portuguese banks face "intolerable risk"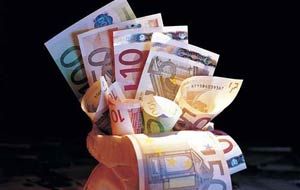 The Euro remains near 11-month lows against the US dollar as European debt concerns continue to focus on Portugal. With the Portuguese government due to auction 500m Euros of bonds later, analysts are waiting to see the extent of market interest.
It comes a day after ratings agency Standard & Poor's placed Portugal on credit watch due to the country's huge debts. Meanwhile, Portugal's central bank warned of the risks facing its banks.
It said they faced an "intolerable risk" if the government in Lisbon failed to consolidate public finances. In early Wednesday trading, the Euro was up slightly to $1.3020 from its Tuesday low of $1.2969.
On the bond markets, the yield on Portuguese bonds was stable at 6.97%. The higher the yield, the less confidence investors have in the bond. The yield on German bonds remained around 2.67%.
With the Republic of Ireland getting a European Union-led bail-out last week, the concern in some quarters is that Portugal may be the next country that needs assistance.
Meanwhile the Euro zone's unemployment rate hit 10.1% in October as jobless rates rose in Italy, inched down in France and Germany, and remained stable in Spain. The rate was the highest since July 1998, said EU agency Eurostat.
The number of people without a job rose by 80,000 in October to 15.95 million people and by 84,000 people to 23.15 million in the 27-state European Union.
Separate figures showed that inflation in the 16-nation Euro zone remained unchanged at 1.9% in November.
In the medium term, the European Central Bank wants to keep inflation below, but close to, 2%. With inflation close to this target figure, analysts expect the bank to keep its main interest rate at 1%.
The rise in the eurozone unemployment rate was mainly due to an increase in the jobless rate in Italy, the bloc's third-biggest economy, to 8.6% from 8.3%.
The second biggest economy, France, saw its jobless rate edge down to 9.8% from 9.9%.
Spain's unemployment rate, where the global economic crisis has taken a big toll on jobs, remained unchanged at 20.7%.
Earlier, Germany had published separate figures showing its unemployment data for November.
It said the jobless total had fallen by 14,000 to 2.931 million, from 2.945 million in October - which was the first time the total had been below three million for two years.