Gibraltar's Chief Minister Caruana entangled over the Andorra status
Wednesday, December 1st 2010 - 22:38 UTC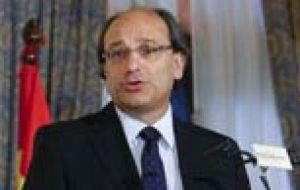 Gibraltar Chief Minister Peter Caruana has moved to lance the bubble of speculation that followed reports of his mention of the Andorra (*) status at a talk to political and business leaders in Seville last week.
And in a detailed statement to the Chronicle he sets out to roundly rebut remarks made by 1970s opposition leader Maurice Xiberras, in a letter to this newspaper. Mr Caruana absolutely rejects the analysis that he has crossed any red line or indeed said anything new.
"No degree of Spanish sovereignty of any part of Gibraltar is acceptable," Mr Caruana has insisted.
Mr Caruana was in Seville last week to address the Nueva Economía Fórum at the Alfonso XIII Hotel where he was asked about a future status for the Rock by a reporter. He responded saying that Gibraltar is not displeased with its current status but that if any proposals were put they would have to be freely accepted by the people of Gibraltar.
"For example, I have said many times that a proposal, which I do not think Spain would make, is not minded to make, now, or perhaps ever, a proposal for a possible solution to the Gibraltar issue, which to a certain extent is problematic for everyone, would be, for example, a status like Andorra which is a situation in which, well, you all know the Andorra post its new Constitution of 1993, obviously not the one before," he told the Forum.
"Well, if that were viable, I would say, well, let's put it to the people of Gibraltar in Referendum. I would even not see it as impossible that I might recommend it to the people of Gibraltar, but in the end the one who is going to decide the future of the people of Gibraltar is not Caruana or Caruana's successor, it is the people of Gibraltar who are the ones who have the right to decide their future and to not be victims of imposition," he told the Seville audience.
He also said that if such a proposal were viable then it might be put to the people.
In his statement today Mr Caruana says that Mr Xiberras has based his analysis and conclusions on a false premise. He states that the post 1993 Andorra model is not a case of joint sovereignty between Spain and France and that neither country exercise sovereignty over Andorra.
"The application of the Andorra Model to Gibraltar would not involve Spain having any sovereignty of Gibraltar," he says adding: "It is absurd to imagine that, having spent the last 10 years defending Gibraltar from joint sovereignty (including right now in relation to territorial waters), I might now find it acceptable. No degree of Spanish Sovereignty of any part of Gibraltar is acceptable".
(*) The Principality of Andorra is located in the eastern Pyrenees mountains and bordered by Spain and France. It has an area of 468 km2 and an estimated population of 83,888 in 2009. Andorra is a parliamentary co-principality with the President of France and the Bishop of Urgell (Catlonia) as co-princes. This peculiarity makes the President of France, in his capacity as Prince of Andorra, an elected reigning monarch, even though he is not elected by a popular vote of the Andorran people. The politics of Andorra take place in a framework of a parliamentary representative democracy whereby the Prime Minister of Andorra is the head of government, and of a pluri-form multi-party system. Responsibility for defending Andorra rests with Spain and France. Andorra is a member of the United Nations as well as a number of other international organizations.