Argentina accused of not defending indigenous groups' human rights
Thursday, December 2nd 2010 - 20:13 UTC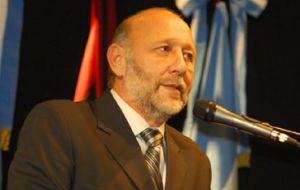 Argentina's Advocate General Office and a humanitarian organization called for the intervention of the Inter American Human Rights Commission, CIDH, to ensure the physical integrity of the indigenous Toba community in the northern province of Formosa following incidents with police forces that left two people killed.
The request was made official and addressed to the CIDH office in Washington, a legal branch of the Organization of American States, OAS, and signed by the Advocate's Office and the Centre for Legal and Social Studies, CELS.
The presentation requests CIDH to intercede before the Argentine government "to protect the indigenous people and its leaders, suspend all eviction actions and promote an investigation and punish those responsible for the attack" which had such a tragic outcome.
The presentation includes a description of the serious events which took place last week and caused the death of Roberto Lopez, a member of the Toba tribe and a police officer plus twenty people injured some of them seriously.
Clashes broke out when the police tried to dislodge by force a route blocked by Toba pickets who are claiming land in Formosa, north of Argentina and neighbouring with Paraguay.
Last August the humanitarian group CELS sent to different Argentine government offices information on the Toba indigenous in Formosa requesting aid and support from the federal government, but apparently to no avail.
CELS recalls that it made another presentation before CIDH back in 2002 following on similar incidents between police forces and another group of indigenous Toba in Formosa defending what they consider their ancestral lands rights.
Different social, political and human rights groups have accused the Formosa provincial government of having triggered the incidents and police repression in alleged coordination and/or sponsoring by big landowners from the region.
The incidents have put the Formosa governor Gildo Insfran from the ruling Justicialista party in a difficult position following on warnings from the provincial Supreme Justice that the incidents are "institutionally very grave" and has opened an investigation into the claims, while opposition groups are demanding his resignation.