Falklands: Rachel North Exploration Well 14/15-2 Oil Discovery
Thursday, December 2nd 2010 - 09:14 UTC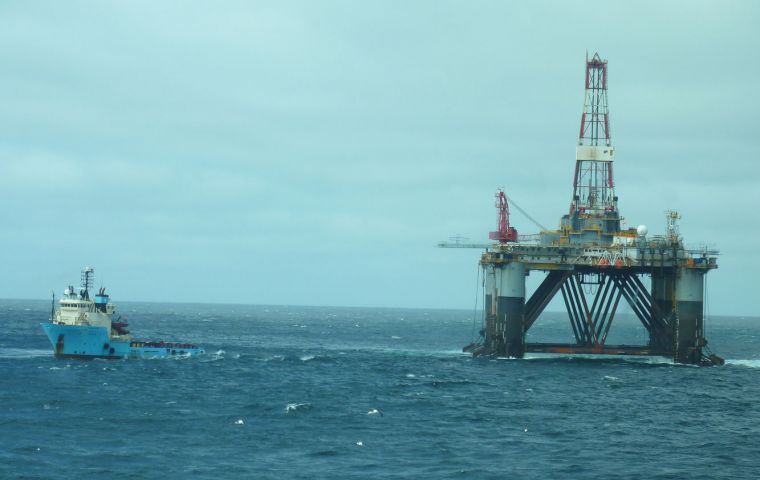 Desire Petroleum plc (AIM:DES) the oil and gas company wholly focussed on the North Falkland Basin, wishes to advise that the 14/15-2 Rachel North well has reached a total depth of 3052 metres.
Preliminary data collected indicate that this well is an oil discovery. The company has run an initial suite of wireline logs and this together with the drilling data indicate that the well encountered a 349 metres gross interval from 2621 metres to 2970 metres of sands and shales with hydrocarbons ,of which 57 metres is net pay in multiple zones. The thickest zone is 8 metres thick with an average porosity of 20%. Other zones are thinly bedded and lower porosity but require further analysis from additional wireline logs to establish reservoir potential.

Desire now intends to complete the wireline logging and wireline sampling programme to obtain more information on the reservoir quality, the hydrocarbon saturations and the fluid type to assess the significance of this discovery. Further information will be released in due course.

Commenting on the well, Stephen Phipps Chairman of Desire said, "It is highly encouraging that the initial results from the Rachel North well endorse both our findings and geological model from the previously drilled Rachel sidetrack well. This discovery combined with Rockhoppers' Sea Lion discovery confirms our belief that the eastern flank play fairway in the North Falkland Basin is highly prospective and that further oil fields will be discovered in this area".

Subsurface support is provided to Desire Petroleum by Senergy (GB) Ltd and the results reported today are based on the work of the Senergy operations team.
This statement has been approved by Dr Ian Duncan of Desire Petroleum plc, who is a Fellow of the Geological Society, Chartered Geologist, and a member of the American Association of Petroleum Geologists with over 35 years experience in petroleum exploration and management.