Brazil's Vale targets a million tons copper production annually in Chile by 2015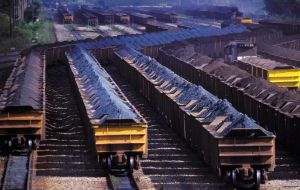 Brazil's Vale Doce, the world's largest iron-ore producer, is aiming to boost copper output more than fivefold by 2015 as it seeks to diversify sales and catch up with rivals, announced top officials from the company during the inauguration of a project in Chile.
The company wants to accelerate its copper projects to be among the world's top five or six producers, Tito Martins, head of Vale's basic materials operations, said at an event near Salamanca, Chile. Vale is analyzing three or four projects in Chile, Peru and Brazil's Carajas region and may also explore for copper in Indonesia and the Philippines, he said.
Vale, based in Rio de Janeiro, plans to produce about 1 million tons annually within five years. Possible acquisitions may push that target higher, Martins said. That compares with the 198,000 tons the company produced last year and a target of 691,000 tons by 2015 that the company announced on Oct. 28.
Vale also said it completed its Tres Valles mine in central Chile's Coquimbo region, with initial capacity of 18,500 metric tons of copper cathodes a year. The world's second biggest miner by market value spent 140 million on the project.
Tres Valles is Vale's first copper venture in Chile, the country that controls about 30% of the total reserves of the metal. "We have come here to stay," Martins said during the opening ceremony for the plant.
The company's current pipeline of copper projects in Brazil will lead to production of 700,000 metric tons a year once completed, Gilberto Schubert, Vale's country manager for Chile, said in a separate interview.
Vale produced 131,000 tons of copper in the first nine months of 2010, down 20.7% from 2009, the company said October 18. The Brazilian company's main rivals in Chile Codelco produced 1.78 million tons in 2009 and Freeport-McMoRan produced 1.61 million tons, according to London-based metals-consulting company CRU.