Mexican top officials admit loosing control of parts of the country to drug cartels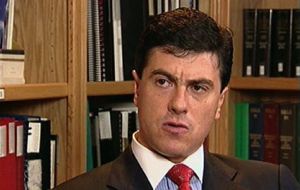 Several top Mexican officials admitted the government was in danger of losing control of parts of the country to powerful drug cartels, according to U.S. State Department documents made public by WikiLeaks.
More than 31,000 people have died in drug killings in Mexico since President Felipe Calderon launched an army-backed campaign against drug traffickers in December 2006 with murders escalating this year.
In a cable in October 2009, then Deputy Interior Minister Geronimo Gutierrez expressed "a real concern with losing certain regions (of Mexico)."
He added that drug violence is damaging Mexico's international reputation, hurting foreign investment, and leading to a sense of "government impotence," the cable said. Gutierrez left his post in March.
Nearly half of Mexicans surveyed in a poll last month said Calderon was losing the drug war as it spreads to once quiet places such as the northern business city Monterrey and the tourist state of Nayarit on the Pacific coast.
That concern was underscored by Gutierrez's comments in the cables more than a year ago that Mexico had 18 months to show Mexican voters the government was on the right track.
"If we do not produce a tangible success that is recognizable to the Mexican people, it will be difficult to sustain the confrontation into the next administration," he said in the cable. Mexicans elect a new president in 2012.
The United States, which publicly has shown strong support for Calderon, doubted his strategy's success in the worst flashpoint of Ciudad Juarez, adding that corruption is still a major challenge.
"Official corruption is widespread, leading to a compartmentalized siege mentality among 'clean' law enforcement leaders and their lieutenants," read a cable from January 29, 2010, ahead of a bilateral meeting. The cable also highlighted the "dismal" rates of prosecution in Ciudad Juarez where only 2 percent of those arrested have been charged with a crime.
The cables were published in Spain's El Pais and Britain's The Guardian newspapers before the WikiLeaks website. A spokesman at the U.S. Embassy in Mexico said the authenticity of the documents could not be confirmed.
"(State Department cables) are often preliminary and incomplete ... They should not be seen as having standing on their own or as representing U.S. policy," the spokesman said.