Lula da Silva and Obama, best evaluated leaders in Western Hemisphere
Saturday, December 4th 2010 - 01:31 UTC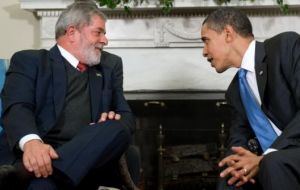 Brazil's Lula da Silva and US Barack Obama are the Western hemisphere leaders best evaluated and most respected, according to a paper based on a public opinion poll and which was released Friday by the NGO Latinobarometro.
The paper also reveals that Venezuela's president Hugo Chavez and former president Fidel Castro from Cuba figure at the bottom of the list. According to the ranking, 0 is equivalent to "very bad" and 10 to "very good". The poll also included Spain's head of state, King Juan Carlos and head of government, Jose Luis Rodriguez Zapatero.
Lula da Silva and Obama are rated 6.3, followed by the King of Spain with 5.8. Rodriguez Zapatero was given 5.6 similar to El Salvador president Maruicio Funes and Felipe Calderón from Mexico.
The list follows with Colombia's Juan Manuel Santos (5.5); Uruguay's Jose Mujica, 5.4; Costa Rica's Laura Chinchilla, 5.3; Ecuadorian president Rafael Correa, (5.2); Cristinia Fernandez, Argentina, 5.1; Chile's Sebastián Piñera, 5; Paraguay's Fernando Lugo, 4.9; Peru's Alan Gaarcía, 4.8 and Bolivia's Evo Morales, 4.7.
Nicaragua's Daniel Ortega is among the worst with 4.3%, but ahead of Chavez with 3.9 and Fidel Castro, 3.8-