Partial announcement of Brazilian president-elect cabinet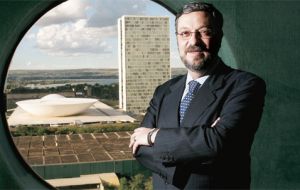 Brazil's president-elect on Friday named as her chief of staff a former aide to President Lula da Silva who was forced to resign as Finance minister in 2006 amid a corruption scandal.
Congressman Antonio Palocci will head Dilma Rousseff's team when she takes power January 1. Chief of staff is seen as the most powerful Cabinet post.
Palocci resigned from Lula da Silva's Cabinet after a former caretaker accused him of frequenting a house where lobbyists threw parties with prostitutes and apparent bribe money arrived by the suitcase. Palocci denied that he ever set foot in the house.
He was eventually charged with at least four crimes, but all the charges collapsed. The last was dismissed by the nation's Supreme Court for lack of evidence in August 2009.
Palocci guided Brazil's economy to low inflation and steady growth from 2003 to 2005. He is considered an economic moderate and his appointment eased global market concerns when the leftist Silva took office in 2003.
Other ministry positions announced Friday include Jose Eduardo Cardozo as justice minister and Gilberto Carvalho as general secretary of the Presidency. The three belong to President Lula da Silva's Workers Party.
However 34 days after Ms Rousseff's victory the cabinet presentation ceremony was far from what was originally programmed because an understanding on posts to be distributed among other parties of the ruling coalition failed to mature.
The main ally in the coalition, PMDB that responds to Vice-president Michel Temer is demanding at least five cabinet posts. Two were to be officially presented on Friday: Edison Lobao in Mines and Energy and Wagner Rossi in Agriculture, but lack of agreement on the whole package turned the ceremony in a partisan event.
Nominations so far besides Friday's are Guido Mantega who remains as Finance minister; Alexandre Tombini, president of the central bank (needs congressional approval) and Miriam Belchior head of the Planning Office and an ambitious infrastructure program originally designed by Ms Rousseff.